So, you're moving house?
Moving house involves a lot of work and admin. It usually requires a pretty long checklist of things to do. That's why we wanted to lay out everything you need to do here prior to your move. Moving house isn't just about packing boxes and getting delivery vans to your door. You have to make sure that you contact the right people, switch over your bills and get a new landline number. So, here you can find the ultimate moving house checklist to make sure you haven't forgotten anything. Read on to rid yourself of all the unnecessary moving house stress.
When should I start packing boxes before moving house?
Moving house isn't just about physically moving yourself and your things from one house to another. Depending on the amount of material things you have, it will require a lot of time and planning ahead. We don't need to be the ones to tell you that the more stuff you have, the sooner you should start packing up your old house. Everyone has their own moving house packing tips, but we recommend that you should start packing up your house at least a few weeks in advance of moving house. This is simply to make sure that you don't leave everything to the last minute and stress yourself out!
Are there moving house van rental services available to me?
Depending on how many boxes you have when moving house, you will probably need to rent a removal van to move all of your belongings. There are a number of removal companies that you can get in touch with before moving to get a helping hand. They will help you transport all the boxes out of your house, into the van, and into your new property. An example of a reliable removal company is https://www.pickfords.co.uk/home-moving, however there are a lot more you can choose from.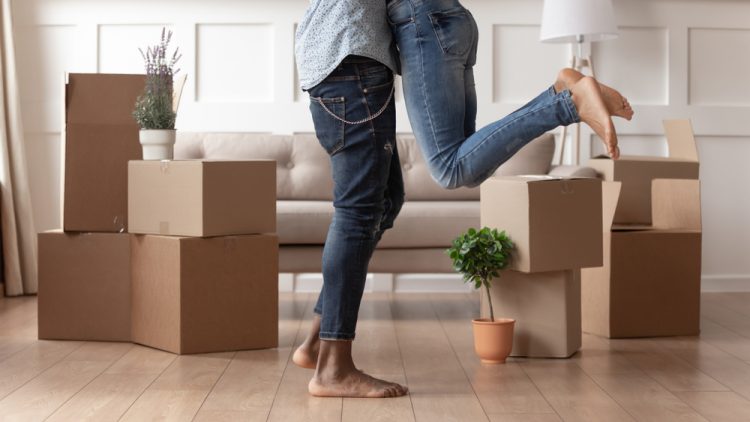 Now for the more admin side of things…
Moving house and broadband
When you move house, you have to switch your broadband over. What does this entail? Well, it's actually pretty easy. Unlike your energy bills, your broadband can be switched over simply by changing the address on your contract. Usually, you can just head over to the website of your broadband provider and follow the instructions on moving house and broadband. You usually only need a few pieces of information, like your account number and your home address, and it's that easy. When you move out, make sure you take all your broadband equipment with you, and you can simply install it in your new house, as you did when you first signed up to your broadband contract.
Moving house and energy
Sorting out your gas and electric bills when moving house is a bit of a longer process, but it's still way easier than you would expect. When you enter your new home, your gas and electricity is supplied by the energy provider that the former residents had chosen, so you don't have to worry about not having any energy on your first day! However, you might want to switch over to the contract you were on before, or a totally new contract, to reflect how much gas and electricity your household tends to consume, and also to reflect your financial situation and your environmental concerns.

You will have to let your supplier know that you are moving before you walk out of the door, just to keep them in the loop. The former residents of your property should have done the same, so everything knows what's going on! Of course, if you're moving into a brand new property, either a new build or a converted space, you won't have an energy bill to fall back on when you first move in, so it's important to get yourself fuelled up before you arrive, so you're not left without electricity or hot water.

The easiest way to switch over your gas and electricity bills when moving house is to use an energy switching platform. Switch Plan is an accredited price comparison service, whose experts can switch you over to the best energy plan for your household's requirements in one quick phone call. Just like with your broadband, all you need to do is provide a few pieces of information, such as your address and the size of your new house (the number of bedrooms, for example), and they can find you the best energy tariff available. So really, it's very easy!

You'll also need to get in touch with a few other people…
This is the pretty long part of moving house. Informing all of your contracts, friends, family members and work colleagues that you are moving house and providing your new address. You'll need to change your magazine subscriptions, your food delivery addresses and your credit card address. So, how do you do this?
The government
No, you don't need to ring up the Prime Minister and let him know personally. However, you do need to change the address on your driving license by getting in touch with the DVLA. If you have a pension, you'll also need to contact HMRC to let them know about your situation. It's also very important to make sure that your address is changed on the electoral roll, as you'll want to be able to cast your vote when the time rolls around again. This can usually be done before an election, when you can re-register to vote with your new information.
The bank
If you have a credit card, debit card, savings account, or any other financial contract with a bank or financial institution, you must let them know that you are moving house so that they can change your address in their systems. Your address is often used to verify your identity, so it's very important to keep this information up to date.

If you also have any loyalty cards or bonds, you should let the relevant institutions know that you are moving house so that they can redirect any post to your new property.
Your insurance providers
Your health insurance, life insurance, car insurance, pet insurance, and any other insurance you have, need to be updated with your new address as soon as you move. Having the wrong information could impede your ability to claim insurance if necessary. Also, it's important to get in touch with your insurance provider to query what exactly is insured when you are moving house. Sometimes, you'll need to take out extra insurance for the move to cover loss or damage of property. If you are renting a moving van, check their insurance policy beforehand.
Your mobile phone company
That being said, you need to let any company with whom you have regular bills and/or regular contact that you are moving house. This also includes your cable TV company, and any other regular subscriptions that depend on knowing your home address.
Your place of work
Let your employer know that you've moved. This isn't just for administrative purposes, but also for your own safety and security. It's important that someone at your place of work officially knows you are moving house. Same goes for schooling! If you have a child who attends a school, academy, college, or any institution of higher learning, make sure you get in touch with the appropriate people to let them know of the move.
Anything else you are signed up to
In this connected world we live in, it's likely that you have a fair few subscriptions, be them magazines, newspapers, food delivery services or a gym subscription. Obviously you will want to redirect these subscriptions to your new address, so you can usually head over to their websites to change your personal details. This might also be a good time to get rid of those subscriptions that have been hanging over your head for years, that you always forget to cancel…
Redirecting your mail when moving house
Get in touch with the post office
Redirecting your mail is an imperative step in the process of moving home. You don't want all your letters, birthday cards and highly confidential mail going to the wrong place! Luckily, the post office makes it pretty easy so you don't have to do it all manually, as they have a service dedicated exactly to this. Make sure you do this well in advance of the move though, as it can take up to 10 days for mail to be redirected.
You now know how long moving house takes. So be helpful to the future residents of your former home
Write down instructions
If you have their personal contact details, then you can send the next inhabitants of your home an email with all the information about the house that isn't so obvious. Or, write it all down and leave it somewhere where they can find it when they first move in. This will include:
Where to find the energy meter.
Labelling all the keys for the property.
Where to find the fuse box.
Any electrical peculiarities in the house.
How to use the boiler.
How to use the alarm, if the property has one.
How the security lights are activated, if the property has them.
What day the bins are collected.
Where the thermostat is located.
Any other information you deem necessary that might not be immediately obvious to the new residents.
You might be able to ask that the former inhabitants of your new property do the same thing, to save you time locating important information and details about the property.
Is there anything else I might have forgotten to do before moving house?
Moving into your new home
We've spoken a lot about what to do before moving in, but we haven't said much about what to do now that you have actually moved! It's a good idea to change the locks on your doors and windows to make sure you have a unique set of keys to the property. Also, don't forget to pay your stamp duty within 30 days of moving in!
If the former residents of the property haven't redirected all their mail to their new place, let them know as soon as possible. Remember, don't open any post that's not addressed to you (it's illegal!) and do not throw it away. If you don't know their new address, you can return the post to its original sender, or send it on to their new property if you know where they have relocated to.
Good luck!
That's about it! Depending on your living situation, how far away you are moving, and how many of you are moving, everyone's moving house checklist will vary slightly. But now you have all the information you need before moving into your new home. Good luck with the move!