Moving House: Dealing With My Energy Supplier
Powering up your home has never been so easy
Let us set up your energy supply with the best supplier in 10 minutes.
Power up your home with us
When moving house, there's a *lot* to consider. Aside from the logistics and practicalities, we have to consider myriad costs: It be stressful, frustrating and extremely expensive. With so much at the forefront of your mind, not thinking about how to switch energy suppliers when moving house can have a lasting impact on how cost-effective your energy bills in your new home will be.
Last update: November 2022
When moving from one home to another, you have an opportunity to start saving on your energy bills as soon as possible. But if you're not proactive, you could spend your first weeks, months or even years paying over the odds for the gas and electricity you use in your new home.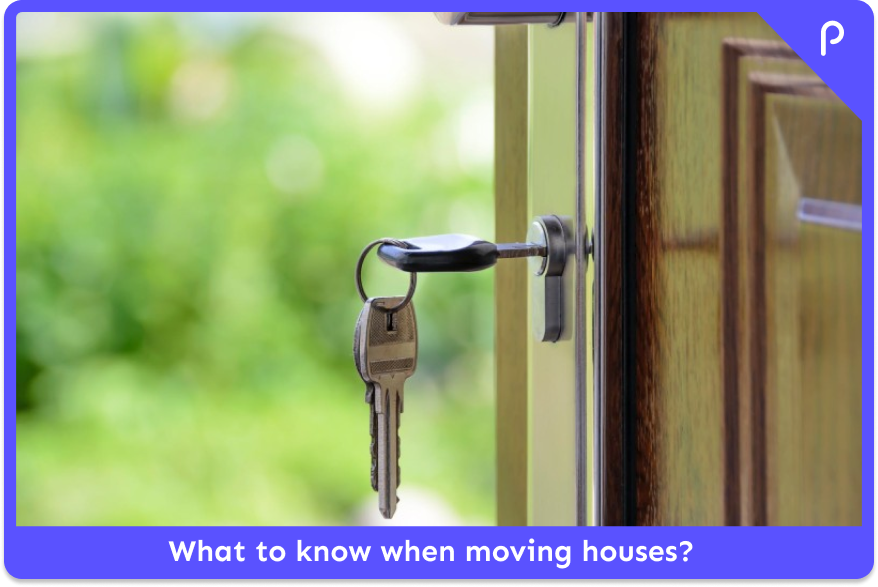 What happens to my energy supplier when I move house
When you move house, your energy supplier remains the incumbent energy supplier in your old home. When someone else moves into your old home, they will have to use your energy supplier until they switch to a new one. Likewise, when you move into a new house, you will be placed on a "deemed contract" with whatever supplier the previous occupant used. This means that you will inevitably be placed on the suppliers standard or default variable-rate tariff. The bad news is that these usually have the least competitively priced unit rates and standing charges that the supplier offers. Unless you've lucked out with a supplier like Bulb that only offers one affordable variable rate tariff. The good news, however, is that these are open-ended contracts, and you can switch tariffs and suppliers at any time without incurring any early exit fees.
How do I add energy to my new house?
When you move into your new home, you should have a working energy supply ready to go. However, it may be worth stopping by before moving day if possible to ensure that you'll be able to start using gas and electricity straight away. If your new gas and electricity supply seem not to be working, don't panic. It's likely that the previous occupant has just switched them off to prevent any unintentional use before you move in. You should be able to switch on your electricity supply by finding the fuse box and switching the main breaker to the "on" position. There will also be a gas valve between your gas meter box and your home. You can use this to switch on your gas supply. If these measures do not work, you may need to contact your local Distribution Network Operator (DNO) and gas transporter as soon as possible to see if you need a new connection. New connections can take a few weeks and are very costly, so it's important to make sure there is an active connection before you move in.
Connecting to the National Grid
You can set up new National Grid connections for both your gas and electricity as soon as you are legally responsible for the property. In order to connect to the grid, you'll need to make contact with your gas transporter and DNO respectively to arrange new connections for your utilities. A new domestic connection will cost up to £1,800 for electricity and £1,400 for gas. However, your costs may vary depending on your location, property and DNO / gas transporter. What's more, you may be able to save money by using a third party contractor to carry out some of the work. Especially if you already have a good relationship with a local engineer. Follow these steps to save money on a new connection:
Find out who your DNO and gas transporter are, using the tables below.
Obtain quotes for new connections for both fuels (this typically takes around 3-4 working days).
Ask your DNO / transporter to break the quote down into contestable and non-contestable work.
For the contestable parts of the work, you can get a third party electrician or gas engineer to carry out the work and potentially safe money. Click Here to find a registered electrician and Click Here to find a Gas Safe registered engineer near you.
Compare the quotes obtained to those provided by your DNO and gas transporter to see if they can save you money without disrupting your schedule.
Looking to set up you energy supplier?
Free Service
Let Papernest help you set your energy supply.
How do I transfer utilities after moving houses?
You can only legally transfer utilities when you are legally responsible for the property's supply (i.e. after you move in). However, that's not to say you can't start looking for a better energy deal before moving day so that you can hit the ground running, and save money on your energy bill from the day you move in.
The first thing to do is find out who supplies gas and electricity to your new home. Hopefully the previous occupant, landlord or letting agent will be able to furnish you with this information. If not, you'll need to do some detective work. The Find My Supplier website should be able to furnish you with the contact details for your current supplier. However, if your property isn't listed here, you'll need to contact your DNO to find out who provides your electricity.
Your DNO will depend on where in the country you live. You can find yours, and their contact details, in the table below:

| Region Where You Live | Distribution Network Operator | Contact Number |
| --- | --- | --- |
| North Scotland | Scottish and Southern Electricity Networks | 0800 048 3515 |
| Central and Southern Scotland | SP Energy Networks | 0330 1010 300 |
| North East England and Yorkshire | Northern Powergrid | 0800 011 3332 |
| North West England | Electricity North West | 0800 195 4141 |
| Merseyside, Cheshire, North Wales & North Shropshire | SP Energy Networks | 0330 1010 300 |
| East Midlands & West Midlands | Western Power Distribution | 0800 096 3080 |
| South Wales & South West England | Western Power Distribution | 0800 096 3080 |
| London, South East England & Eastern England | UK Power Networks | 0800 029 4285 |
| Southern England | Scottish and Southern Electricity Networks | 0800 048 3516 |
| Northern Ireland | Northern Ireland Electricity Networks | 03457 643 643 |
You should also ask your DNO to give you your MPAN Number. This is the unique identification number for your new home, and will make it quicker and easier to switch suppliers later. Your gas supplier may be the same as your electricity supplier, but this is not always the case. To see who supplies gas to your new home you should contact your gas transporter.
You can find yours in the table below:

| Distributor | Area | Contact Number |
| --- | --- | --- |
| Cadent Gas | North West of England, West Midlands, East of England and North London | 0800 389 8000 |
| Northern Gas Networks | North East of England, Northern Cumbria, and much of Yorkshire | 0800 040 7766 |
| SGN | Scotland and Southern England | 0800 912 1700 |
| Wales & West Utilities | Wales and the South West of England | 0800 912 2999 |
You should also get your MPRN number from your gas transporter. This identifies your new home's gas meter number and, again, will make it quicker and easier to switch suppliers. Once you know your suppliers and have your meter reference numbers, you have everything you need to transfer your utilities and escape your deemed contract with your new home's incumbent supplier.
What if I want to keep my current suppliers?
When setting up gas and electricity in your new home, you can choose whatever energy supplier you wish, including your old home's supplier. But while you can go back to your old home's energy supplier, keep in mind that they might not necessarily be able to offer you the best deal in your new home. Especially if you're moving to a new region, have different fuels or a different kind of meter. They may not be able to offer you the exact same tariff and rates that you enjoyed in your previous home.So, it is best to explore your options before going through with an energy transfer.
In these checklists, we'll tell you everything you need to do before, during and after you move to your new house.
Checklist: Before you move
We understand that there's a lot of plates that you need to keep spinning in the run up to your move. But destiny favours the prepared! Carry out these simple steps prior to your moving day and you can enjoy cheaper energy quickly and easily in your new house:
Start comparing energy prices for your new home as soon as possible.
If you'd rather take your existing tariff with you, check with your current supplier that you'll be able to do so. This may not be possible if the new property has a different meter or uses different fuels (e.g. just electricity instead of dual fuel).
Notify your existing supplier of your move at least 48 hours before your moving day (the earlier the better).
If possible, find out who supplies energy to your new home in advance. This will make everything else a little easier.
Checklist: On moving day
We know that you'll have your hands full on moving day. However, if you can find the time to carry out the following steps it will allow you to get cheaper energy to your new home much faster:
Take a meter reading in your old home and send it to your current supplier. You may want to take a photo just to be on the safe side
As a courtesy, you may want to leave a note for your home's new occupant, letting them know who the incumbent energy supplier is.
Another courteous thing to do is switch off your old home's gas and electricity at the mains to prevent the new occupant from having to pay for energy that they haven't used.
Take a meter reading at your new home, and report it to the incumbent supplier as soon as possible. This will ensure that your first (and probably last) bill from them is accurate.
Leave a forwarding address so that the new occupant, or their landlord / estate agent can ask any questions that they might have about your old home's supply.
Checklist: After you move
Amidst the chaos, the boxes and wondering what the heck happened to your toothbrush, try and make time for the following and you'll be ready to save money on your energy bills from day one (or close to it):
Contact the incumbent energy supplier and find out what tariffs and rates you're on. This will help you to find out exactly what you're paying in your new home, and how much you could save by switching.
It's also probably a good idea to try one more price comparison to make sure that you have the best new supplier in mind.
Sign up with your new supplier and they'll take care of the rest. The switch should be done within 15-21 days.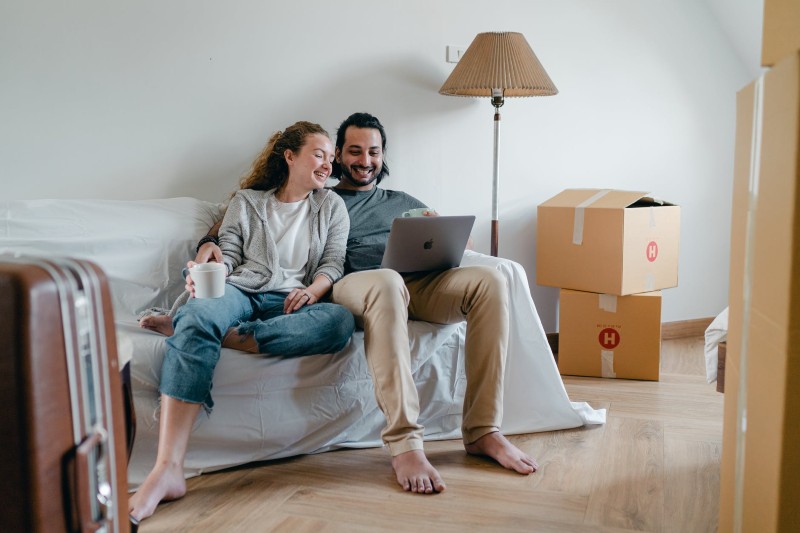 Who do I need to tell when I move house?
If you want to switch your energy supply efficiently, you should notify your old home's energy supplier of your move 48 hours (at the latest) before your moving day. You should also notify the following as soon as possible:
Your old property's water supplier
The local council
Your phone / TV and broadband provider
The DVLA (you'll need to send off for a driving license with your new address)
Your employer
Your children's schools / childcare providers
When should you turn off electricity when moving?
To prevent your previous home's new occupant from paying for unnecessary energy usage, it's a good idea to switch off your home's electricity supply on the day you move out. Your home could be unoccupied for some time before they move in and this will insulate them from an unnecessarily high bill.
You may also want to switch the gas and water supply off at the main just to be on the safe side.
How do I get gas and electricity in my new house hassle-free?
When you carry out the steps mentioned above, you can make setting up a cheaper energy supply in your home easier and less stressful. Still, even with the luxury of price comparison sites, it can be a time-consuming and frustrating affair to find the perfect energy deal for your new home. That's where we come in!
The Papernest team can scour the energy market to find the best value supplier and tariff for your new home. So you can start making great savings on your energy from the day you move in. The average household can save over £300 a year by switching suppliers regularly. Want to know how much you could save?
Looking for someone to set up your energy?
Leave your phone number to request a call back from us!
Find out more
Read more:
FAQ
Does it cost money to switch utilities?
Not a penny. Neither we, nor your new energy suppliers will charge you to switch. The only circumstances under which it will cost you money to switch utilities is if you're in the middle of your fixed energy tariff. In this case you may have to pay an early exit fee for each fuel you switch. There is, however, a 49 day switching window at the end of your contract. If you change suppliers within this period, there are no early exit fees.
It's worth noting that some suppliers, such as Utility Warehouse, will pay your early exit fees for you if you choose one of their tariffs.
What do I need to cancel when moving house?
There's a lot to remember when you're about to move to a new home. But if you notify the following suppliers and cancel your services in advance, it can reduce the risk of unnecessary bills and logistical headaches:
Your energy
Your water
Your phone, TV and broadband
Any subscription services or magazines that you won't be needing in your new home
Can you switch energy supplier as soon as you move in?
Yes, absolutely. As soon as you're legally responsible for the property's energy supply, you can switch providers whenever you like.
How long does it take to switch energy supplier?
Technically, your energy switch can take up to 21 days. However, most of the time your switch will be done within 15 days, especially if you have your MPRN and MPAN numbers to identify your new home's meters.
According to Citizens Advice, if your switch takes longer than 15 days, your new supplier is obliged to pay you £30 in compensation. This must be paid to you within 10 days.
Updated on 11 Nov, 2022