How To Compare Energy Prices: A Guide For Consumers
We compare the market to find you the perfect deal
We study all energy suppliers daily to identify the best deals custom-fitted to your needs. You just have to take your pick.
Comparing energy prices is an essential way to reduce your energy spend and prevent your bills from spiralling out of control. In theory, it's both quick and easy to compare energy prices. Especially with all the price comparison websites out there. But how do you know you're getting great value for money after you compare energy prices? How do you know that the price on screen will match your actual usage. What's stopping the price of energy from rising, and what can you do when it does?
Last update: November 2022
As you may have heard on the news, the UK energy market is currently under an immense amount of stress as a result of a global gas shortage driving up costs and putting several energy suppliers out of business. To learn more about this and stay updated on a daily basis you can read our page on the UK energy crisis.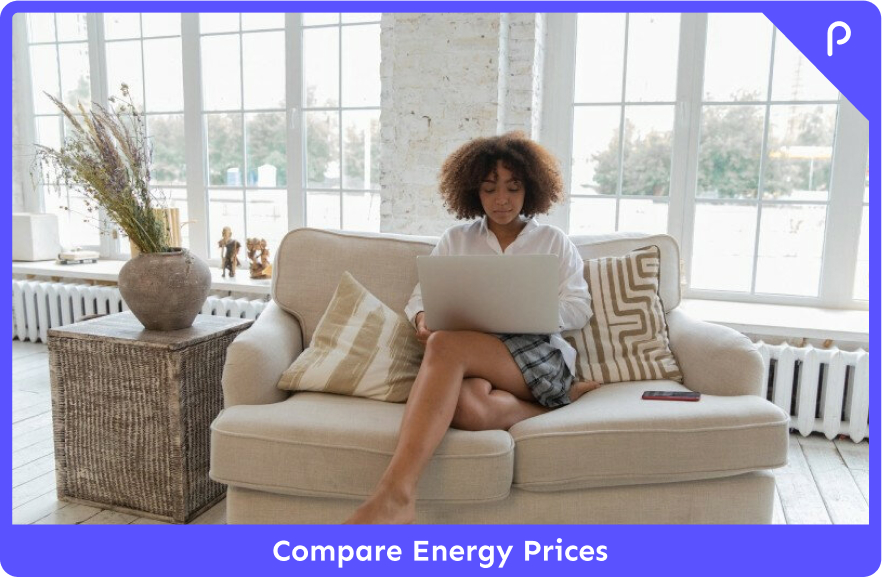 Before you compare energy prices, it's a good idea to get an understanding of the energy market and why it's so advantageous to keep switching suppliers. Here, we'll look at everything you need to know to compare energy prices effectively.
Who is the cheapest energy supplier?
Energy prices are always changing with new tariffs and rates being offered all the time. The cost of your energy depends on a number of factors, including:
Where you live
How much energy you use
Your tariff
Your energy choices
However, some suppliers do tend to be cheaper than others. Based on the average use statistics in the UK for a medium user in the south, as supplied by the regulator Ofgem, the cheapest suppliers are as follows:
| Type of tariff | Supplier | Tariff | Annual cost | Monthly cost |
| --- | --- | --- | --- | --- |
| Cheapest Variable | Outfox the Market | One Variable Tariff 6.0 | £847.72 | £71 |
| Cheapest Fixed | Avro | Simple and SuperSave | £897.23 | £75 |
| Cheapest Big Six | Scottish Power | Super Saver September 2020 B3 | £970.88 | £80.91 |
Which energy supplier is the best?
Is cheaper better than greener? Is a better customer service more important to you than no exit fees? It's hard to give a definitive answer to this question about which supplier is best. It depends on your own individual requirements and expectations. However, there are certain ways to compare other people's and independent body's experiences. One of the main ones is to look at the Which? annual survey of the major energy suppliers. This rates suppliers on an annual basis, based on the reviews and experiences of actual customers. While this is not a definitive list of the best suppliers, it is a useful guide to see who is performing well. Ratings metrics including customer service, bill accuracy, digital tools and value for money, with several thousand customers being asked for their opinions about suppliers in each category.
How much can I save by switching energy suppliers?
On average in the UK, around 60% of homes could be paying around £300 more than they need to for their energy each year. That's because many of these are simply sitting on standard variable energy tariffs, the most expensive of all tariff options. By switching in in a matter of minutes, it might be possible to save hundreds of pounds.
guarantee your energy safety? FAQWhere do energy price comparison figures come from?
Energy price comparison figures are based on your energy consumption for the year. If you are unable to provide this information, however, price comparison services can still provide quotes based on estimates. The figures from these come from national average consumption for low, medium and high energy consumers. Figures are as follows:
Low- 1,800 kWh electricity, 8,000 kWh gas
Medium- 2,900 kWh electricity, 12,000 kWh gas
High- 4,300 kWh electricity, 17,000 kWh gas
Can I compare gas and electricity separately?
Yes, you can and should. While dual rate tariffs offer a discount for consumers, they aren't necessarily always the cheapest deals on the market. This is why we include both dual and single fuel tariffs when comparing energy prices on your behalf.
What information do I need to compare energy prices?
You will need to know your existing tariff information and average monthly bill amount, as well as how many kWh you use each month. You will also need your current address.
What is the difference between fixed and variable-rate tariffs?
A variable-rate tariff rises and falls in line with the wholesale cost of energy. However, your energy company has to give you 30 days' notice if your energy costs are going to change. A fixed-rate tariff locks your gas and electricity prices in place for a set period of time (usually 12 or 24 months). When these tariffs expire, your supplier will usually switch you to a variable-rate default tariff unless you arrange otherwise. You can leave a variable-rate tariff at any time, but some fixed-rate tariffs have an early exit fee if you attempt to switch before the contract is complete. You can, however, switch up to 49 days before your contract's expiry date without incurring fees.
Will my gas and electricity be interrupted if I switch?
Absolutely not. The transition between suppliers will be seamless, and you will receive a final bill from your previous supplier when the new supplier takes over. In fact, if your switch takes more than 15 days, you will be entitled to £30 in credit as compensation.
Updated on 30 Nov, 2022