Flick the switch and start saving on your energy bills
Switch-Plan helps you find the best and cheapest energy contract . Start saving now!
The energy price cap was only introduced in 2018 and is usually reviewed every six months. It is a cap on the most expensive tariffs, generally the standard variable rates. These are the default rates charged by most suppliers. It also applies to prepayment tariffs. The latest energy price cap took effect on 1 April 2021 and stands at £1,138 (up £96 from £1,042). Have you heard of the energy price cap but not sure what it is, what it does and whether it affects you? Well, you're not alone. The energy price cap is a relatively new idea and there is still lots of confusion about exactly on how it saves you money on energy bills and who regulates it. In this article, we will clear up all of that confusion.
Last update: November 2022
As you may have heard on the news, the UK energy market is currently under an immense amount of stress as a result of a global gas shortage driving up costs and putting several energy suppliers out of business. To learn more about this and stay updated on a daily basis you can read our page on the UK energy crisis.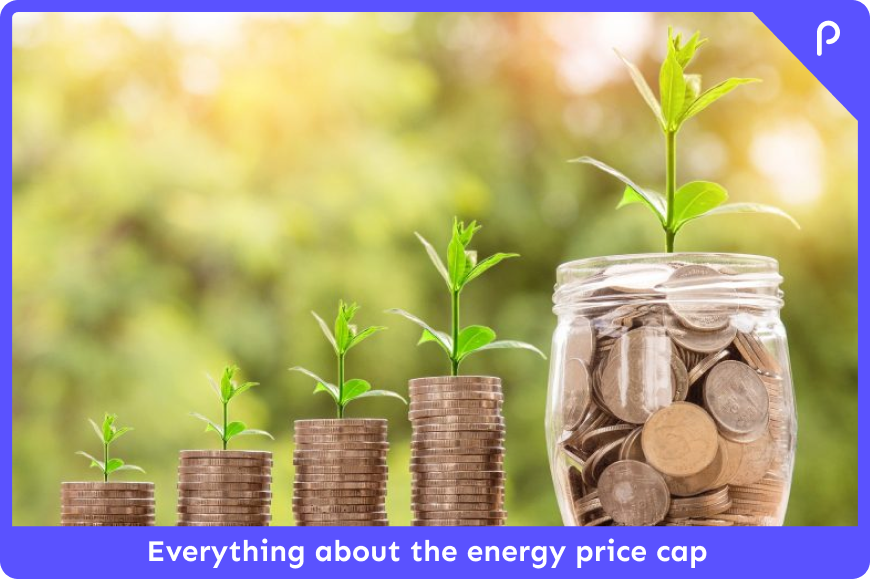 The price cap was introduced to try and stop people being charged more for their energy than what is fair. What it does is place a maximum limit on what suppliers can charge for one unit, or kWh, of power. It also limits what they can charge for the daily standing charge. It was introduced by, and is overseen by, Ofgem. This is the industry regulator.
What is the current energy price cap and how is it calculated?
The energy price cap is a tool put in place to limit the amount energy companies can charge customers who are on default or standard rate tariffs. It also applies to customers who are on prepayment meters.
The price cap is set twice each year in February and August by Ofgem, the industry regulator, with prices changing usually within a month or two after the decision. Ofgem generally say that prices have gone up or down due to wholesale supply costs and other factors affecting prices worldwide.
Want to switch energy suppliers? Switching with us has never been simpler.
Free Service
Let Papernest help you with your electricity and gas needs.
The price cap is reviewed every six months and works by putting a price on each unit of energy that is bought and sold. The energy suppliers are legally obliged to stick within the limits of the price cap. It was introduced as a way of limiting what companies could charge in order to ensure prices stayed fair. However, there has been criticism of the price cap as it has actually seen prices rise on the whole, with the larger suppliers usually fixing their tariffs at the very top end of the cap.
The current price cap for the average energy bill in the UK is £1,138 for credit tariffs and £1,156 for prepayment tariffs. This is higher by £96 than the previous cap. And it will likely change again later in the year. It generally goes up but there is no reason it could not also go down.
You should remember that your bills may be higher than this depending on your usage.
How does the energy cap work?
The price cap works by putting an upper limit on the units of energy sold by suppliers in the UK. These are called kilowatt hours, or kWh. It is also applied to the standing charge, which is the charge your supplier levies to provide you with energy each day. The combination of standing charge and units of power are what make up your energy bills.
That means there is a maximum limit to what you can pay for your energy, per unit. Of course, it all depends on usage. The more energy you use, the more you will pay. While the cap limits what you can pay per unit, it does not limit how much you are charged overall.
What does daily cap mean?
You may hear the cap referred to as the daily cap. This only applies to the limit on what your supplier can charge you for supplying your power. This is known as the standing charge and forms one part of your overall energy bill along with the amount of power you use.
When was the energy price cap introduced?
The energy price cap was introduced in 2018 and is usually reviewed every six months. It is only a cap on the most expensive tariffs, which are generally the standard variable rate tariffs – the default rates charged by most suppliers. It also applies to many prepayment tariffs.
How does the energy price cap affect my energy bills?
The aim of the price cap is to help ensure customers on the most expensive tariffs pay a fairer price for their energy and also to prevent overcharging. The idea is that the cap is tied to wholesale costs, so if they go down then so should the cap, followed by your energy bills.
Of course, the reverse is also true. If wholesale prices go up, then so does the cap and ultimately so will your bills. The most recent cap has increased the maximum charge of an average energy bill by £96.
Of course, the cap is just an upper guideline and suppliers can charge what they want below the limit of the cap.
Will my bills fall under the price cap?
In general, the energy price cap goes up over time. That means that each time it is revised your bills may go up. However, this does not mean you are beholden to the price cap. As we mentioned above, the price cap is only applicable to standard variable and default rates. These are the most expensive rates that most suppliers offer. It is usually a better idea to shop around for a fixed rate tariff which gives you energy at a value far below the price cap.
When you are nearing the end of your fixed rate package, you can simply shop around again for a good deal. It is possible to save up to £300 by simply choosing another supplier. And it couldn't be easier.
In fact, we do all the hard work for you. All you have to do is sign on the dotted line and your supplier is switched over without any fuss or interruption to service. Find out more by calling our team on 0330 818 6225.
How long will the price cap last?
Each price cap period is at least six months. They are reviewed twice yearly in February and August. Of course, there is nothing to say that the price cap will change. Ofgem, the regulator who set the price cap, might decide to keep it where it is for now. But in general, each limit lasts about six months.
Will the price cap change? How will I know?
If the price cap does change then you can find out about it on the Ofgem website. If they make changes they will always publish the reasons behind their decision. You can subscribe to their Alerts & Briefings newsletter if you want to be kept up to date.
Your supplier is legally obliged to keep to the price and they must write to you if your tariff is changed in any way that disadvantages you or if the tariff becomes no longer available.
However, even if your tariff is covered by the price cap, you should always shop around to see what other deals are available.
Who are Ofgem and what do they do?
Ofgem stands for the Office of Gas and Electricity Markets. They are a non-ministerial government department and an independent national regulatory body. The role of Ofgem is to protect consumers and to deliver a more sustainable and fairer energy system.
To do this they:
Work with the government as well as industry and consumer groups
Aim to eradicate bad practice and ensure fair treatment for all customers
Enable competition and innovation within the energy sector
Ofgem energy price cap 2021
The current Ofgem energy price cap for 2021, effective as of April, is 19p per kWh for electricity and 3p per kWh of gas. This is an increase of about £96 on the average energy bill in the UK. Remember that this only applies to standard variable and prepayment tariffs.
How can I check my supplier is charging me correctly under the cap? What do I do if I have doubts?
You do not need to check that your supplier is keeping in line with the price cap. Ofgem regulates the industry and ensures that all suppliers are complying with the limits they set. You don't need to do anything.
If you have doubts or complaints about the way your energy is supplied you should first take it up with your supplier. However, if you are not happy with their response, you can get in touch with Ofgem to register a complaint.
How are tariffs calculated under the energy price cap?
Your supplier will be given notice of the new energy price caps. They will know this is the maximum they can charge you for a kWh of power or for the standing charge. They will then decide what rate to charge you below that limit according to their own business criteria. They are legally allowed to charge you right up to the cap but no more.
It is generally the case that the larger energy providers, known as the Big Six, will set their tariff charges close to the cap and more or less in line with one another. However, again remember that this is just for standard and default tariffs. Supplier fixed rate deals usually charge less than the price cap limit. That's why using our services to shop around for a better deal is always a good option.
How does the price cap affect household energy bills?
The price cap limits the amount you can be charged per kWh. This is the unit by which gas and electricity are charged and how your usage appears on your bill. So, for example, if the top rate for a kWh of electricity is 19p, you can be charged no more than 19p for each kWh of power you use. Of course, you will be charged for each unit you use, so your bill depends on usage.
How do energy price cap protections work?
They work by limiting what suppliers can charge you per unit. They also limit what they can charge you per day as a standing charge to maintain your connection.
Could my bills rise?
Depending on where Ofgem sets the cap, your bills could rise if your supplier decides to change their rates. Of course, the cap does not always change and suppliers do not always decide to alter their rates. Plus, if you are on a fixed rate deal then your supplier will have to honour that rate until your deal expires.
How has the energy price cap changed over time? Is that a good thing?
The energy cap has only been in existence since November 2018, so there is little long term evidence of its effects. Although average prices have gone up, the cap is seen as a good thing because:
It protects vulnerable consumers
It is only temporary and changes according to conditions
It aims to make energy pricing fairer
It sets limits and prevents overcharging
What's the latest price cap and what does it mean for me?
The latest cap was announced in February. Ofgem set the price at £1,138 for the average bill in the UK. This is £96 higher than the previous cap. However, there are still dozens of cheaper tariffs in the market if you shop around using our switching service.
Will where I live affect the level the price cap is set at?
There are some slight regional differences in the cap levels. This reflects how much it costs to transport energy across the energy network to where you live. To find out more about caps in your area, contact Ofgem or your supplier.
Would you like to know more about saving money on energy bills? Great! Check out these related articles
Looking to switch energy deals?
Leave your phone number to request a call back from us!
Find out more
FAQ
How much is the energy price cap?
The current price cap for the average energy bill in the UK is £1,138 for credit tariffs and £1,156 for prepayment tariffs. This is higher by £96 than the previous cap.
Is there a cap on energy bills?
Yes, there is a cap on energy bills. The energy price cap is set by the regulator Ofgem and limits what suppliers can charge for a unit of energy and as a standing charge.
Will my bills fall under the price cap?
Bills can either fall or rise. This is because the price cap can go both up and down according to the conditions by which it is set.
How is the price cap calculated?
It is calculated based on the latest estimates of the costs for each supplier. These include wholesale energy, networks, environmental and social costs. Allowances are made for suppliers' costs and a fair level of profit. This ensures they can continue to operate and supply you with power.
Is the energy price cap a good thing?
It is generally good as it aims to ensure good practice and protect vulnerable users but it has led to a rise in the average prices since its introduction. There are 150 fixed rate tariffs on the market that are priced below the price cap. There are 42 variable rate tariffs on the market that are priced below the price cap.
Updated on 11 Nov, 2022