Energy Plan Transfer: How to Take My Plan With Me When Moving House
Powering up your home has never been so easy
Let us set up your energy supply with the best supplier in 10 minutes.
Power up your home with us
It's okay to admit it. Moving house can seem like a stressful and bewildering whirlwind. And no matter how well planned you are, it always seems as though there's *something* you've forgotten. Once you move into your new home, you're automatically on a "deemed contract" with the previous occupant's supplier. But that doesn't mean you can't set up your existing plan in your new home. It just may not be instantaneous. Here we'll look at how to transfer your energy plan to your new home and manage your utility bills.
Last update: November 2022
As you may have heard on the news, the UK energy market is currently under an immense amount of stress as a result of a global gas shortage driving up costs and putting several energy suppliers out of business. To learn more about this and stay updated on a daily basis you can read our page on the UK energy crisis.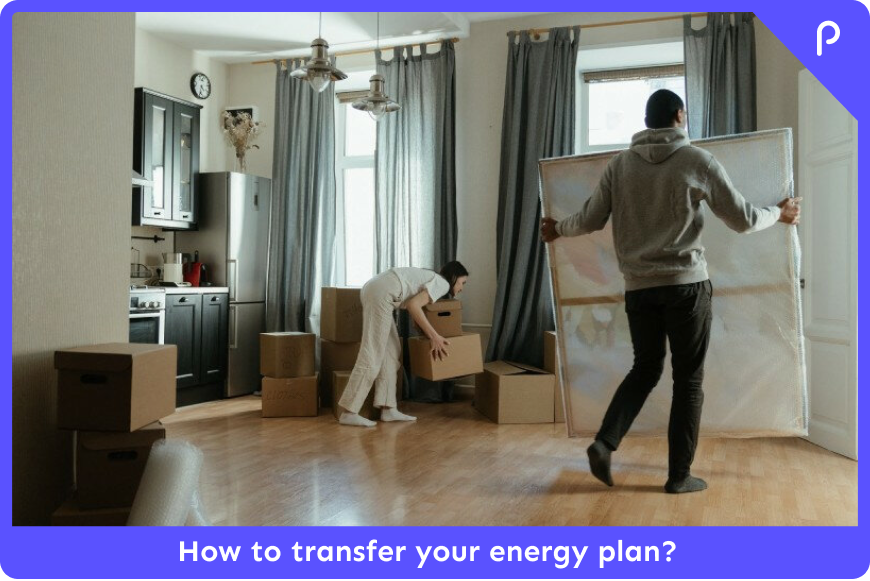 Are you wondering if you can carry out an energy transfer or, in other words, simply carry on your current deal in your new home? While you may be able to enact this kind of energy transfer, it's a little more complicated than you may imagine.
Leave your phone number to request a call back from us![/cta-fullwidth-single] FAQWhat if your new home has a prepayment meter?
If your new home has a prepayment meter, you won't be able to carry out an energy transfer (unless, of course, your previous home used a prepayment meter). But don't worry, there are a number of prepayment specialist suppliers to choose from. We can help you to find the best Pay As You Go deal to suit your needs. Alternatively, you can see if your incumbent or new supplier will replace your prepayment meter with a standard credit meter to give you more options.
Can I change energy supplier as soon as I move into a new home?
Yes, as soon as you are legally responsible for the energy supply to your new home, you can switch from the incumbent supplier to your previous home's supplier… or any other supplier you like!
Is an energy transfer the cheapest option when moving house?
Maybe. But not necessarily! Switching to a new supplier may provide you with cheaper energy than transferring your existing plan to your new home. At the very least, it's a good idea to check what tariffs are available for your new home so that you can make an informed decision.
When should I switch utilities when buying a house?
As soon as possible. The longer you wait, the more you risk spending on an expensive deemed contract with your new property's incumbent supplier. And keep in mind that your switch will take around 15 days to be processed.
The closer your switching day to your moving day, the greater your savings are likely to be.
Updated on 11 Nov, 2022