How to Change The Name On Your Energy Bills
Powering up your home has never been so easy
Let us set up your energy supply with the best supplier in 10 minutes.
Power up your home with us
As Juliet once asked Romeo… "What's in a name?". Well, as far as your utility bills are concerned quite a lot. Your name is a big part of your identity. And it's completely understandable that you wouldn't want the wrong name on your financial documents. Whether you receive a paper copy of your bills or you manage your account online, it's important to learn how to change the name on your utility bills.
Last update: November 2022
The good news is that this is, in most cases, quite a fast and straightforward process. You can manage the details on your utility accounts by logging into your supplier's website, or contacting them via email or over the phone. In this article, we will explain that process for you.
As you may have heard on the news, the UK energy market is currently under an immense amount of stress as a result of a global gas shortage driving up costs and putting several energy suppliers out of business. To learn more about this and stay updated on a daily basis you can read our page on the UK energy crisis.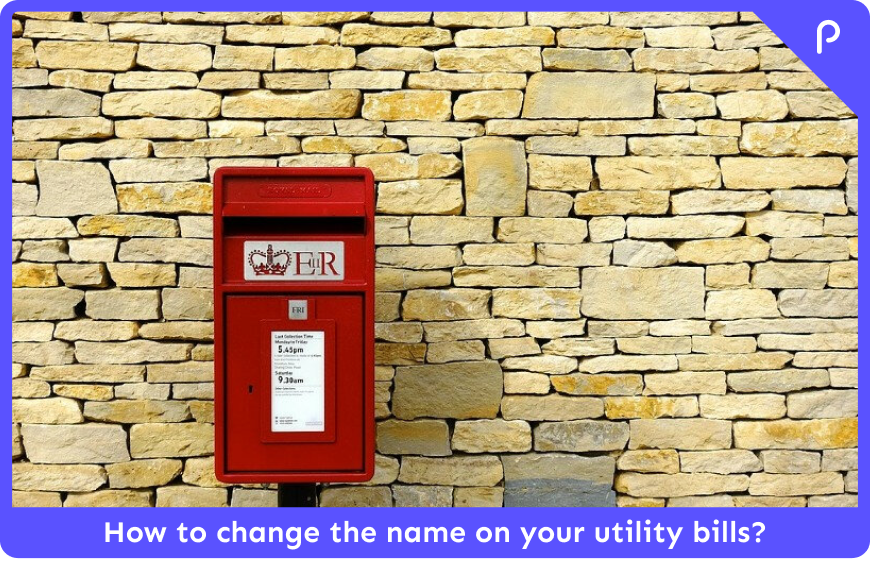 Leave your phone number to request a call back from us![/cta-fullwidth-single] FAQCan you switch utilities to someone else's name?
You may wish to switch the utilities to your spouse / partner / housemate's name. You can do this by accessing your customer portal on your supplier's website. Be advised that you, your partner or both parties may need to provide written or verbal consent.
How do I add a name to my utility bills?
The easiest way to do this is to contact your utility suppliers directly either over the phone or via email. Ask to speak to a customer service representative. They should be able to add your spouse's name to your utility bills. Be advised, however, that because their name is on the bill, this means that they also share responsibility for that bill.
How do I set up my Direct Debit?
If you need to change the payment details for your utility bills, it's quickest and easiest to do this on your customer portal on your supplier's website.
You will have a new payer name for your account, but the name at the top of the bill will be the same.
How can I get a paper copy of my bill?
Many energy consumers prefer to keep paper records of their bills. However, many of the most affordable energy plans today are paperless. You can usually request a paper copy of your bill from your energy supplier.
Can I have 2 names on my utility bill?
If both parties agree to share the responsibility, it is not difficult to put two names on an electricity bill - usually only both parties have to inform the utility company.
Updated on 11 Nov, 2022