The papernest Guide to Moving Out of Your Home
Powering up your home has never been so easy
Let us set up your energy supply with the best supplier in 10 minutes.
Monday to Friday – 8.30 am to 5.30 pm
papernest is rated 4.7/5 on Trustpilot
Ad
Powering up your home has never been so easy
Let us set up your energy supply with the best supplier in 10 minutes.
Monday to Friday – 8.30 am to 5.30 pm
papernest is rated 4.7/5 on Trustpilot
Ad
Home is where the heart is. But there are lots of circumstances where moving out is necessary. Moving out can be a stressful, costly and exhausting prospect. But the more prepared you are when moving out, the more you can find ways to make it cheaper and easier.
Last update: June 2022
As you may have heard on the news, the UK energy market is currently under an immense amount of stress as a result of a global gas shortage driving up costs and putting several energy suppliers out of business. To learn more about this and stay updated on a daily basis you can read our page on the UK energy crisis.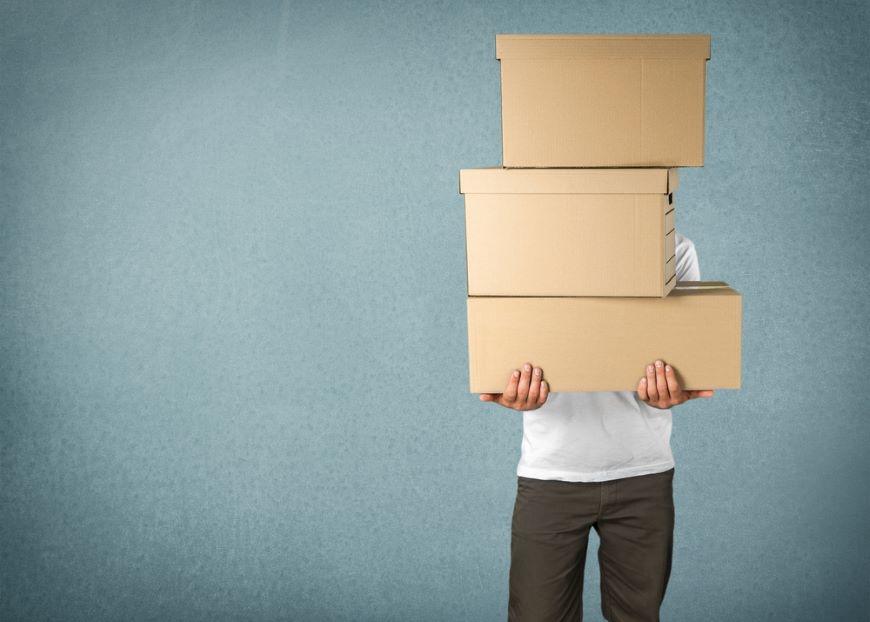 The team at papernest loves nothing more than helping people set up energy in their new homes, making it easier to save money on the essentials in your new property. But that's by no means the only way in which you can make moving out cheaper and easier. Here we'll look at some of the things you need to consider when moving out, as well as some ways to take the stress, hassle and needless expense out of the process.
What do you need to remember when moving out?
There's a whole lot to consider when moving out of your home to somewhere new. So much, in fact, that it's easy to miss something that could cause complications (and potentially costs) later on.
The better prepared you are, the easier the process will be. And it's never too late to start making plans. Here we'll take a look at everything you need to consider before moving out.
Moving out checklist
Every move is different, just as everyone's circumstances are different. As such, this moving out checklist won't be definitive for everyone. It will, nonetheless, help you to cover all your bases:
First of all, make sure you have a firm moving date set. This is essential if you're to coordinate your movers, get packed in time, and set up contracts in your new home.
Start packing as soon as you can. Packing little and often can make it less stressful, as well as give you a better idea of exactly how much needs to be moved.
Contact your utility providers. You should do this no later than 48 hours before your moving day. More on this later.
If you're renting, make sure you give your landlord the notice required as per your tenancy agreement.
Take the time to get as many quotes as possible from removals companies in your area. You wouldn't believe the difference in costs between different firms. That said, you shouldn't choose your removals company solely on the basis of cost. More on that later.
Have a big clear-out prior to moving day. You may be surprised by how little you want to take with you. Rather than loading unwanted belongings into the bin, doing this further in advance will allow you to give away, donate or sell anything you don't want.
If you're renting, you may want to hire a professional cleaning company to do an end-of-tenancy clean. You could do this yourself, but you may lose some of your deposit if this is not found to be done to a professional standard.
Make arrangements here to have your post redirected to your new address, so you don't miss anything during or after your move.
Leave a forwarding address with the new occupant, landlord or estate agent in case they need to contact you.
Our energy experts are here to help
Free service - Available Monday to Friday from 8.30 am until 5.30 pm
Who do I need to tell that I'm moving out?
You should contact the following people to let them know that you're changing your address, and when you'll be moving:
Your employer
Your child / children's school(s)
Your bank, insurance company, pension provider and credit card company
Your local council / electoral roll
The TV Licensing authority
Your Doctor and dentist
The DVLA (you'll also need to change the address on your driving license)
The DWP (if you claim any benefits)
Choosing a moving company in the UK
There are many moving companies in the UK. Some of which have a global reach and huge fleets of vans. Others are modest family operations with a very narrow local reach. Choosing the right one for you will go a long way towards making the move easier and keeping costs manageable when moving out.
The sooner you start researching moving companies and getting quotes, the more luck you'll have securing the right mover for you on the day that you need them. Of course, you don't want to spend over the odds. However, you'll need to walk a fine line between quality and affordability when choosing a removals company.
Here are some things that you should keep in mind when choosing a removals company:
Are they able to cover the distance you're moving? Some can only handle local moves, while others can deal with national and even international movers.
When providing you with a quote, will they visit you in person? This can ensure that your quote is as accurate as possible.
Check that they're a member of the British Association of Removers, or any association that operates in line with Trading Standards.
Read reviews on resources like Google and Trustpilot to see if the experiences of local customers match the claims they make on their website.
As careful as your removals company will be with your property, it's a good idea to get removals insurance for your move, just in case something is lost or damaged in transit.
Setting up energy in your new home
Of course, we at papernest are especially interested in helping you get your energy set up in a new home. Many energy consumers are unaware of just how much energy costs can add to the moving process.
Whenever you move into a new property, you'll be placed on what's called a
"deemed contract" with the supplier that the previous occupant used. This is the case whether you are moving into a rented property, or a property that you own yourself.
Under a deemed contract you'll almost always be on the supplier's standard variable tariff. This is usually (but not always) the most expensive energy tariff that they have. The longer you wait to switch suppliers, the more you could be wasting money on the energy you use.
You can't switch energy suppliers until you're legally responsible for the property (i.e. the day you move in). However, we recommend getting in touch with the papernest team prior to your move to explore your options and find out who the cheapest energy supplier will be for your new home.
Here are some tips that will make it easier and cheaper to set up energy in your new home:
Notify your current energy supplier of your move at least 48 hours before your moving day.
Find out who supplies energy to your new home, and what their default variable rates are. This will help you find out how much you could save by switching.
Find out your new home's MPAN and MPRN numbers to help suppliers identify your electricity and gas meters.
Call us before you move so that you can make a switch as close to moving day as possible and save more money.
Take meter readings at your new and old homes on moving day. This will ensure that you are billed accurately and won't pay for any energy you haven't used.
Once you've switched to a new energy plan, the Papernest team will manage your switch for you to get it done as quickly as possible. Usually within 15 days. After this you will get a first (and last) bill from the incumbent supplier to cover your usage before the switch.
Can I transfer my previous energy plan to my new house ?
You can keep the same energy supplier if you so choose. However, at papernest we advise that you switch energy suppliers because tariffs are based on a number or factors that might not be best suited to your energy consumption in your new home.
How much does it cost to move out ?
That depends on your circumstances. If you're renting your new home, for instance, you'll need to factor in not only the cost of moving but your deposit (usually about a month-6 weeks' rent). If you're buying a home, however, you'll need to factor in a range of costs including solicitor's fees, surveyor's fees, mortgage arrangement fees, and (where appropriate) fees for your mortgage broker / advisor.
What are moving out costs in the UK?
Moving out costs will vary depending on the size of your property, your location and how far you want to move. Even the time of year may be a deciding factor. You may decide to hire a self-drive van (not recommended for larger moves) or you may choose to defer to a removals company.
In the table below, we've detailed roughly what you can expect in terms of moving costs:
| | | | | | |
| --- | --- | --- | --- | --- | --- |
| Removals method | One bedroom | Two bedrooms | Three bedrooms | Four bedrooms | Five bedrooms |
| Hiring a van | £100 | £200 | Not recommended | Not recommended | Not recommended |
| Hiring a removals company | £400 | £500 | £800 | £1,000 | £1,200 and upwards |
| Add packing services | £150 | £200 | £250 | £350 | £400 |
Our energy experts give you tips to save money while moving out !
Free service - Available Monday to Friday from 8.30 am until 5.30 pm
How much should I save before moving out?
That really depends on the size of your property, how far you want to move and the timeframe you have. If you have a few days or weeks, you may find that you can save money by making a few trips by yourself or assisted by friends / family members to cut the cost of your move.
Ideally, you should save up enough to cover the cost of the move itself, as well as any deposits or advance payments necessary for your move. If you will be taking time off to move, you may need to save up a little more to cover the loss of income while you're in the process of moving.
Can you move out with no money?
Moving out can be expensive, but people can (and do) move out without having a lot of money behind them.
You can radically reduce the cost of moving out by:
Enlisting friends and family members to help you move
Doing all your own packing
Moving as many of your belongings as possible in your own car so you don't need to rely as heavily on a removals service.
When should you move out?
Most of the time, moving out of the home (whether it's the family home or a place of your own) is dictated by necessity. But if you have the choice of when you can move, is there a time when it's best to move out?
What is the best time of year to move out?
You may be wondering what the best time of year to move out is. And at the risk of being obtuse, it depends. Each season has its benefits and caveats:
Moving out in spring
Spring is a good time to move as demand is fairly light, especially in March and April. However, you aren't likely to encounter many difficulties because of the weather. Although you should probably plan for rain.
Moving out in summer
Let's face it, summer makes everything feel magical. Especially something as exciting as moving into a new home. It's also an ideal time to move if you have children, as they won't be in school. However, this is the season of peak demand for movers, so prices may be higher and availability may be more scarce.
Moving out in autumn
Demand fluctuates in autumn. It's probably a good idea to avoid September as this is prime time for removals companies as university students move on campus. However, you're likely to get good rates towards the middle or end of autumn.
Moving out in winter
This may be cheaper as demand for removals services is reduced. However, moving in winter can bring its own logistical problems. These include slip hazards caused by snow and ice, or cold weather making you more likely to drop boxes. It can also complicate moving when you have young children.
What age is the best age to move out?
If you're still living in your parents' home, you may be itching to gain your independence and move out on your own. However, while there's no specific age where it's the best time to move out, you should ask yourself some searching questions to determine whether the time is right for you.
Will you be able to support yourself when living alone? Do you have enough saved for a deposit? If you'll be moving in with a friend or partner, will you still be able to get the personal space you need when cohabiting?
Our energy experts are here to help
Free service - Available Monday to Friday from 8.30 am until 5.30 pm
Moving out of the UK
Sometimes you may need to move out of your home to a different country or continent. This may be to pursue a new career opportunity or move in with a partner from overseas. In the wake of Brexit, Brits have lost their right to freedom of movement around the continent, so you'll need to factor in potential complications if you're moving overseas.
Where do most Brits emigrate to?
Whether we're pursuing a new job, a new career, or simply a fairer climate, thousands of Brits move out of the country every year. In the table below, you can see where most Brits emigrate to.
The top 10 countries with the most British expats are as follows:
| Rank | Country | Number of UK expats |
| --- | --- | --- |
| 1 | Australia | 1,300,000 |
| 2 | Spain | 761,000 |
| 3 | United States | 678,000 |
| 4 | Canada | 603,000 |
| 5 | Ireland | 291,000 |
| 6 | New Zealand | 215,000 |
| 7 | South Africa | 212,000 |
| 8 | France | 200,000 |
| 9 | Germany | 115,000 |
| 10 | Cyprus | 59,000 |
What is the easiest country to emigrate to from UK?
Even in the wake of Brexit, Germany is actually the easiest country to emigrate to from the UK. With a strong economy, vibrant cultural scene, and extremely friendly locals, Deutschland is a great place for Brits to move, find gainful employment and and set up a new life.
Even as non-EU citizens, Brits can get permanent residency within 2-3 years and citizenship within 5-8 years.
Moving out after Brexit
Although Brexit has complicated moving to the continent, you can still make a new life for yourself by moving to Europe. There are lots of UK removals company that can handle a move to France, Germany, Spain or any other European country. However, you may need to box a little more clever.
Here are some tips for moving out post-Brexit:
Be wary when researching countries online. Some of the advice you read may be outdated.
Consult a financial advisor to assist you with the logistics of moving your money / investments to another country.
Find out what quarantine rules will apply to any pets you want to take with you. These may also be changed in the wake of Brexit.
Find out what visas you will need and ensure that you meet the requirements and leave enough time to apply for them.
Let the papernest team help you make your move easier
While we can't help with the logistics of moving, or haul your sofa up 5 flights of stairs, we can prevent you from overspending on energy in your new home after moving out. We can scour the market to find the best possible energy supplier and tariff for your new home. We'll even manage your switch from end-to-end, making the process quicker and easier.
Want to know more? These articles may help you :
Call us today on 0330 818 6225 to find out how much we could save you.
We're available from 8am to 6pm.
FAQ
Why is it important to set up energy in my new home?
It's important to set up energy in your new home as soon after moving out as possible. When you move in, you're placed on a deemed contract with a variable rate tariff. Which almost certainly means you can get a cheaper deal elsewhere. The sooner you call Papernest to find a new tariff, the more you could save.
How can I cut the cost of moving out?
Planning in advance can help you cut the cost of moving out. Give yourself time to pack and / or get rid of any belongings you don't want to take with you. Take the time to get quotes from multiple removals companies. Try and move as many smaller items as possible by yourself or with the aid of friends and family. This way, you'll only need a removals company or van for your larger items.
When is the cheapest time to move out?
It's usually cheaper to move out in late autumn and winter when demand for removals services is lower. Keep in mind, however, that the weather may complicate your move.
Where do Brits emigrate to the most?
The top three countries to which British citizens emigrate to are Australia (around 1.3 million), Spain (around 760 thousand) and the United States (around 680 thousand).
Updated on 15 Jun, 2022