The EPC register explained
Powering up your home has never been so easy
Let us set up your energy supply with the best supplier in 10 minutes.
Monday to Friday – 8.30 am to 5.30 pm
papernest is rated 4.7/5 on Trustpilot
Ad
Powering up your home has never been so easy
Let us set up your energy supply with the best supplier in 10 minutes.
Monday to Friday – 8.30 am to 5.30 pm
papernest is rated 4.7/5 on Trustpilot
Ad
Here in the UK, Energy Performance Certificates (EPCs) form an essential part of buying and selling a home. But just what is an EPC? Why is it needed and what does it do? Below we will explain more about EPC ratings, how it is measured and how it can certify the safety of your house.
Last update: June 2022
As you may have heard on the news, the UK energy market is currently under an immense amount of stress as a result of a global gas shortage driving up costs and putting several energy suppliers out of business. To learn more about this and stay updated on a daily basis you can read our page on the UK energy crisis.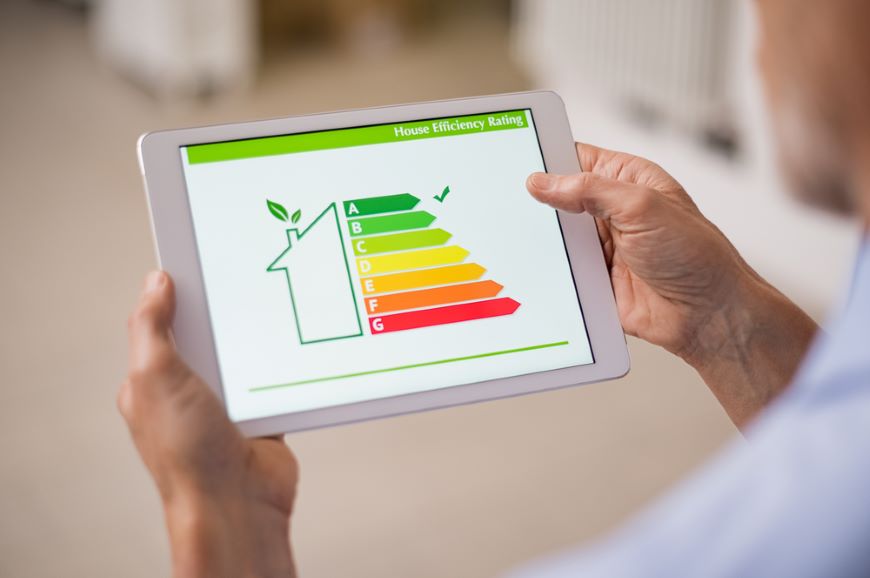 Getting the right EPC rating is required for selling or renting a home as they provide valuable information about how well a home performs in terms of energy. They also give prospective buyers or renters an indication of what energy bills will be like.
The EPC gives a property a grade on a scale from A to G, with A being the most efficient and offering the lowest bills. The grade your property receives will depend on the amount of energy used per square metre and the level of carbon dioxide emissions.
What is an EPC rating?
An EPC certificate rates your home in terms of its energy efficiency. It estimates energy costs and provides a summary of the energy efficiency, giving an idea of its performance related features.
An EPC can also include recommendations on certain measures that would make your property more energy efficient. It can also give you an idea of the potential savings you could make if you implement these changes.
In the UK, an EPC is carried out by an EPC assessor (in Scotland this must be a government approved agent). They will conduct a brief survey of your home looking at energy appliances, insulation, materials used and construction techniques. They will then give your property a rating from A to G, with A being the most efficient.
You only need an EPC rating if you are planning on selling or renting your property, as it is required by law. But once you have the certificate it is valid for 10 years.
What does an EPC rating mean?
Apart from listed properties, every home in the UK needs to have an EPC rating before it can be sold or rented. The EPC makes it much easier for prospective buyers and renters to make comparisons between properties – and this can make a big difference when it comes to buying or renting property.
The ratings are between A and G, with A being the most efficient and therefore meaning bills will be less and the property will generally be more comfortable in terms of warmth and heating.
As of April 2018, landlords in England and Wales have been required to get an EPC rating of at least an E to be able to legally let their property. EPCs are also essential if you want to take part in government schemes such as the Renewable Heat Incentive.
EPC rating bands
The rating bands are between A and G. A is the most desirable and most efficient, with G being the least efficient. In general, new builds tend to have higher ratings because they use newer technologies and techniques that make them more efficient. Older properties tend to have lower ratings down towards the D or E bracket.
The ratings are given according to:
The amount of energy used per metre squared
The level of CO2 emissions (as given in tons per year)
Our energy experts are here to help
Free service - Available Monday to Friday from 8.30 am until 5.30 pm
What does EPC rating F mean?
Although the rating scale goes between A and G, it is also possible to get an F rating. This means that your property has fallen below regulatory standards and needs some immediate attention. Landlords who are renting properties with an F rating are exposing themselves to fines of up to £5,000 unless they make the necessary improvements.
What does an EPC check involve?
The EPC check, carried out by a domestic energy assessor (DEA) generally includes the following:
Establishing the age and construction methods of the property
Measuring floor and wall spaces
Looking at heating systems including the boiler and radiators/heaters
Identifying existing cavity wall and loft insulation methods
Identifying any alternative heating and energy-efficient products
The DEA will also check the manufacturer of the boiler and establish what kind of boiler it is. They will also look at the boiler controls and assess the efficiency of the heating system. This will all be judged against current standards.
What is the average EPC rating?
A score of 60, which equates to a band D yellow rating, is the average score for the UK.
Scores are given out of 100 and are banded as follows:
| Score | Rating |
| --- | --- |
| A | 92+ |
| B | 81-91 |
| C | 69-80 |
| D | 55-68 |
| E | 39-54 |
| F | 21-38 |
| G | 1-20 |
The importance of a high EPC rating
An EPC is important to landlords and prospective buyers or renters as it shows
how energy efficient a property is. This is very significant as if the property has a low rating, the prospective buyer/renter can assume that the energy bills for that property could be high. When choosing a property to rent or buy, knowing how much it is going to cost to run can make a big difference.
It is also important because if you are a landlord without a valid EPC, or one that does not meet the standards required, you could be fined up to £5,000.
Can I sell a property with an EPC rating of F?
You can sell a property with an EPC rating of G or even F, however, it is much more difficult to do this. Mortgage companies will not lend on properties with ratings this low so you would have to be looking at cash buyers for a property in this condition. This usually means accepting a lower offer and greatly reduces the number of prospective buyers for your property, which will also drive down the price.
How do I get an EPC?
An EPC must be carried out by an accredited domestic energy assessor, or DEA. You can source one in your local area using the government's official EPC register. However, if you are using an estate or letting agent to sell or rent your home, it is generally part of their job to ensure there is a valid EPC for the property.
How often should EPC be done?
Landlords are obliged to get and EPC at least every ten years – the length of time for which they are valid. However, if you have made changes to your property it is advisable to get a new EPC as this could give you a higher rating.
If the property is not for rent then you only need an EPC when you come to sell. This has to be in date, so needs to have been done within 10 years of the sale date.
How do I get my EPC rating up?
The good news is that it is not that difficult to boost your EPC rating if it is low. The following are easy steps to take to boost your grade:
Upgrade to LED light bulbs
Install wall and roof insulation
Replace windows with double or triple glazing
Install solar panels
Use a smart meter
Replace inefficient boilers and heating
What is the fine for not having an EPC?
For domestic properties the penalty is £200. However, for non-domestic properties the penalty is equivalent to 12.5% of the value of the building, with a minimum of £500 and a maximum of £5,000. If this is not applicable, a default penalty of £750 is issued.
So, the fines are large enough to take the EPC seriously.
Who pays for an EPC certificate?
The EPC is the responsibility of the property owner to arrange and pay for. The EPC needs to be presented to potential buyers or tenants before any sale or contract is agreed.
Our energy experts are here to help
Free service - Available Monday to Friday from 8.30 am until 5.30 pm
How to improve your home's energy efficiency rating?
As mentioned above, there are various ways of improving your EPC score. These include better insulation, a new or more efficient boiler, installing solar panels and more. This will involve some level of investment but if you are the homeowner this can be recouped in lower bills. For landlords, a better grade can also mean better rental income.
Low and zero carbon energy sources
One easy way of improving your EPC is to invest in low and zero carbon energy sources, which include:
Solar hot water
Air source heat pumps
Ground source heat pump
Combined Heat and Power (CHP)
Biomass heating
Solar photovoltaics (PV)
Wind turbines
Your home's heating demand
You can also reduce your home's heating demand by improving the insulation and preventing heat loss in your property.
What is a good energy efficiency rating?
Obviously, the higher the rating the better it is for your property. A grade C or above is generally good, although the newer the property the higher your rating should be. Older properties are generally harder to get higher ratings so a D or above is good. To legally rent a property it needs to be E rated or above.
How much is an EPC?
There is no set fee for an EPC. It depends on factors such as the size and type of property. Prices tend to start at around £60 but it's worth getting quotes from a few energy assessors in your area. You can source these from the EPC register.
Buildings that do not need an EPC
As well as listed buildings, other exempt buildings include:
Places of worship
Temporary buildings
Stand-alone buildings (less than 50 square metres of floor-space)
Industrial sites, workshops and non-residential agricultural buildings
Buildings due to be demolished
Holiday accommodation rented out for less than four months per year
Residential buildings used less than four months a year
What EPC rating do you need to rent?
Your property will need an EPC rating above an E grade in order to be legally rented out.
Can I view an EPC online?
If you do not have a copy of an EPC for your property, you can access a copy online. If you are in England or Wales, simply enter your postcode into the Landmark register to receive a copy of the latest certificate.
Read more:
FAQ
What is a EPC rating?
An EPC rating grades your property in terms of its energy efficiency, estimating energy costs and providing a summary of the energy efficiency of your home.
What is the average EPC rating?
A score of 60, which equates to a band D yellow rating, is the average score for properties in the UK.
How much is an EPC?
It varies as there is no set price. However, you should expect to pay around £60. You should always shop around to try and get a better price.
How long does an EPC take?
An EPC assessment usually takes between half an hour and sixty minutes. It generally depends on the size of your property.
Updated on 15 Jun, 2022