Compare prices and tariffs to find the cheapest gas supplier
We compare the market to find you the perfect deal
We study all energy suppliers daily to identify the best deals custom-fitted to your needs. You just have to take your pick.
Monday to Friday – 8.30 am to 5.30 pm
papernest is rated 4.7/5 on Trustpilot
Ad
We compare the market to find you the perfect deal
We study all energy suppliers daily to identify the best deals custom-fitted to your needs. You just have to take your pick.
Monday to Friday – 8.30 am to 5.30 pm
papernest is rated 4.7/5 on Trustpilot
Ad
Switching your gas and electricity to a new supplier could save you up to £400 per year and even switching your gas alone could make a serious difference to your bank balance. Apart from switching, The best way to minimise the amount you pay for your fuel is to find the cheapest gas supplier available. In fact, unit prices and standing charges can vary significantly between suppliers, so you may well find you can get your gas a lot cheaper somewhere else (but you can also switch by calling us!). In this article, we will show you the hottest gas prices in the UK market.
Last update: June 2022
As you may have heard on the news, the UK energy market is currently under an immense amount of stress as a result of a global gas shortage driving up costs and putting several energy suppliers out of business. To learn more about this and stay updated on a daily basis you can read our page on the UK energy crisis.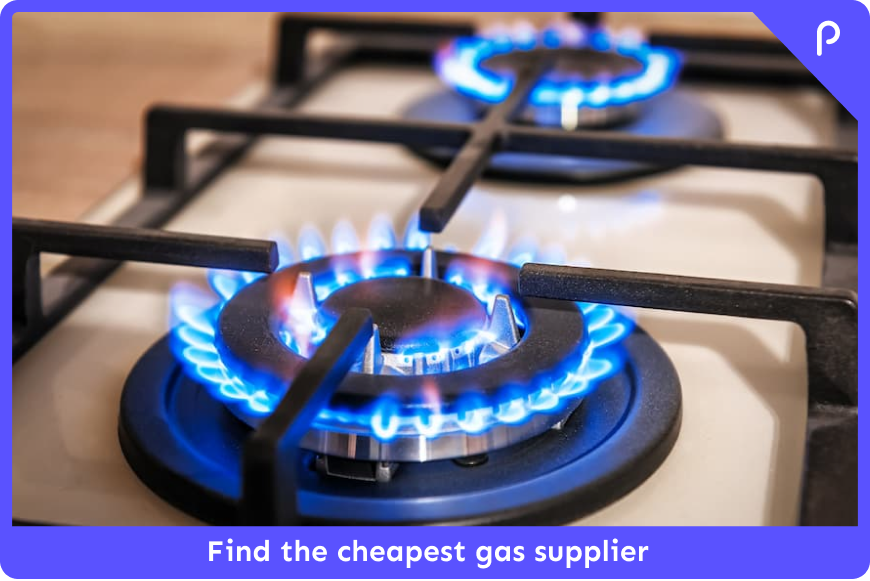 As gas prices go up and down throughout the year, there's not one gas supplier that can be classed as the cheapest. However, there are some that offer consistently low prices. These include:

Avro Energy
Simplicity
Green
Shell Energy
Utility Point
People's Energy
Outfox The Market
Want to know more about the plans that these suppliers offer? Give us a call at the number on the top of the screen and our experts would be more than happy to find the best deals that these suppliers offer.
How do I find the cheapest gas supplier?

If you're looking for a new energy supplier and want to keep costs to a minimum, use an impartial price comparison tool, like our Switch Plan, to find the cheapest gas suppliers around. Comparing the offers currently available should help you find the most affordable supplier on the market.
Switching gas supplier is incredibly easy, so if you find your current energy company doesn't offer the cheapest deal, you can simply sign up to another provider to enjoy better rates. In fact, spending just a few minutes comparing deals could save you hundreds of pounds in the long run.

COVID-19

More than ever, our team of experts remain on deck to help you make savings on your energy. We understand how deeply the lives of many are affected by these trying times and we want to support you the best we can. More on your energy supply during COVID-19 in our article.
What is the average cost of gas per kWh?
When you start comparing offers to find the cheapest gas supplier, you'll notice that gas prices are advertised in terms of pence per kWh. The lower the price of a kWh, the less your gas consumption will cost.
On average, households in the UK pay 4.4p for a kWh of gas. This is known as the unit price of gas. However, prices can go as low as 2.8p/kWh and as high as 5p or 6p per kWh. For your interest, we also have an article on the average gas bill.
Which energy supplier has the cheapest standing charge?
A lot of people assume that, when they pay their gas bill, they're paying solely for their energy usage. And while this does make up a large percentage of your gas bill, you'll also have to pay a 'standing charge' to your gas supplier.
This is a fee that almost all energy suppliers charge customers. It covers the cost of connection to the grid and goes towards transportation costs and maintaining energy infrastructure. The standing charge has to be paid every single day, whether you use any gas or not. As the cost of transporting gas to your home, and maintaining the infrastructure, varies across the country, the amount you pay will depend on where you live as well as on your energy supplier.
Standing charge vs unit price
The cost of a standing charge can vary anywhere from 10p to 60p per day. A lot of the time, you'll see that tariffs with a high standing charge have a lower unit price and vice versa.

If your household uses a lot of gas, you may want to opt for a tariff with a high standing charge and a low unit price. High consumptions households are classed as those that consume around 17,000kWh gas per year
If your household doesn't use a lot of gas, a tariff with a low standing charge and higher unit price may suit your budget better. Low consumption households are classed as those that use around 8,000 kWh gas per year.

Finding a balance between standing charge and unit price should help you to select the deal that's right for you and your household.
How to compare gas suppliers?

Comparing gas suppliers should help you to find the cheapest deal on the market. The best way to compare gas suppliers is to use an impartial comparison tool like our Switch Plan. This will allow you to compare the cost of various tariffs and also get expert advice on switching your deal.

For your knowledge, we would also like to add that we have an article on comparing electricity prices so that you don't need to look anywhere else for all any energy inquiries you might have.
Value
The first thing you'll probably want to look at when comparing gas suppliers is value. Getting good value for money will allow you to keep your energy payments to a minimum and stay on top of your finances.
However, it's important to remember that the best value deal won't always be the cheapest. Finding a company that has low prices as well as good customer service, good digital tools and other benefits will ensure your energy supply represents the best possible value for money.
Sustainability
If you're trying to reduce your carbon footprint, you may want to select a gas supplier that has a greener approach to energy. More and more providers are offering green or offset gas to their customers.
Although green tariffs can be a little more expensive than standard deals, they're falling rapidly in price and it's now possible to find deals that are comparable to other cheap gas tariffs. This allows you to do your bit for the environment without changing your habits or paying over the odds.
Suppliers offering green or offset gas include:

Bulb
Octopus Energy
Green Energy UK
Outfox the Market
Ecotricity
Ovo Energy
Does cheap gas mean poor customer service?
Although cheap gas prices are important when comparing energy deals. You may also want to consider a company's customer service before signing on the dotted line. Sometimes, companies that have cheap tariffs try to cut costs by minimising the number of customer service staff they employ or by skimping on training.
If you need to complain about your service, dealing with poorly trained staff, or waiting for a long time for your call or email to be answered can be very frustrating.
It's important to note that cheap prices don't necessarily mean poor customer service. It's also true that paying a high price for your energy doesn't guarantee you'll be well looked after by your provider.
Before you switch, take the time to look at the company's Trustpilot score, or read other online customer reviews, to decide if the energy supplier offers the level of service you'd be happy with.

Am I eligible for Warm Home Discount?

The Warm Home Discount is a government scheme that gives eligible households a discount of £140 on their winter energy bill. All big six energy companies are part of the scheme, as well as a growing number of smaller energy suppliers.
If you're eligible for the Warm Home Discount, it's a good idea to select a supplier that's part of the scheme as it can save you a significant amount on your home energy bills.
The core group of households eligible for the Warm Home Discount is made up of pensioners who receive the Guarantee Credit part of the Pension Credit. The Guarantee Credit tops up your weekly income if it's below:

£173.75 for single people
£265.20 for couples

This means that, if your income is less than the Guarantee Credit threshold, you'll automatically be entitled to the Warm Home Discount.
There is also a broader group of people who are eligible for the scheme. This group is mostly made up of people who are on a low income and who receive at least one state benefit. The criteria for the broader group vary between energy companies. If you think you fall into this group, you'll need to get in touch with your energy supplier to find out if you qualify.

How do gas suppliers set prices?

Each gas supplier sets their own prices. However, these are heavily influenced by the wider energy market and by wholesale gas prices and transportation costs. As a result, gas prices tend not to fluctuate more than a few pence between suppliers.
Wholesale costs make up about 46% of your gas bill. Another 25% is made up of networking costs. These are the expenses that companies incur getting the gas to your property, like infrastructure maintenance. The third biggest chunk of your gas bill goes towards paying operational costs.
The table below shows a detailed breakdown of the average UK gas bill:
| Annual cost | Percentage |
| --- | --- |
| Wholesale costs | 46.24% |
| Networks | 25.64% |
| Operating costs | 20.41% |
| Environmental and social obligation costs | 1.86% |
| VAT | 4.76% |
| Supplier pre-tax margin | -0.49% |
| Other direct costs | 1.58% |
Wholesale gas market price vs retail price
On average, wholesale gas prices make up around half of your energy bill. If you're on a variable rate tariff, the rate you pay will track the cost of wholesale gas, so if prices rise, your bill will also go up. However, if prices fall, you could see your energy payments hit rock bottom.
If you want to avoid the ups and downs of the energy market, sign up for a fixed rate tariff instead. This will give you a set unit price for your gas and could help to make budgeting a little easier.
Generally, prices rise and fall according to supply and demand. When there is a lot of gas available, or demand is low, prices fall. When supplies of gas dwindle or demand is high, prices are likely to go up.
Wholesale price evolution and reasons
Over the years, wholesale gas prices have fluctuated as gas reserves have been depleted and new reserves discovered. Geopolitical factors, like wars and trade deals, can also have an impact on wholesale gas costs.
The table below shows how the wholesale price of gas fluctuated between 2011 and 2021:
Year
Average
Closing Price
Annual
% Change
2021
$2.75

37.29%

2020
$2.03

12.92%

2019
$2.56

-35.69%

2018
$3.15

-11.92%

2017
$2.99

-0.54%

2016
$2.52

62.72%

2015
$2.62

-27.39%

2014
$4.37

-27.15%

2013
$3.73

25.66%

2012
$2.75

15.10%

2011
$4.00

-29.38%
How to reduce my gas bills

Most households in the UK use gas to power their central heating and kitchen hob. As a result, most of us use a fair bit of gas, with the average property consuming between 8,000 and 18,000 kWh of gas per year.
If you're concerned about how much you're spending on gas, there are a number of steps you can take to reduce your bills. The most effective include:

Switch supplier to find a cheaper deal
Sign up to a fixed rate tariff
Reduce the amount of gas you consume by insulating your property and turning down the thermostat

Of these steps, the easiest is probably switching supplier. Switching is quick and straightforward and could save you up to £300 on your dual fuel bill. If you decide to switch, you won't notice any disruption to your gas supply, the only difference you'll see is the company name on your bill.
Use our comparison site, Switch Plan, to find the best deal for your home.
0330 818 6225
How do I switch to a cheap gas deal?
Switching to a cheap gas deal is a quick and easy process. Your new supplier will take care of a lot of the paperwork and admin, including notifying your old supplier that you're leaving.
You can switch supplier whether you're an owner-occupier or tenant. You just have to make sure it's your name on the energy account before you begin shopping around.
What is a dual fuel tariff and do I need one?
A dual fuel tariff is a tariff that covers both your gas and electricity. you can get a dual fuel tariff when you get both fuels from the same supplier. Often, dual fuel deals are better value than single-fuel tariffs, so if you're looking to minimise your energy payments, this could be a good option.
Would you like to know more about gas prices? Great! Check out some of our related articles
Cheapest gas supplier
Average gas bill
FAQ
Is it cheaper to use gas at night?
Unlike electricity, gas isn't available on Economy 7 or Economy 10 tariffs. This means it's not cheaper to heat your home or cook your food during off-peak hours.
Will switching to a new gas supplier affect my current supply?
Switching to a new gas supplier won't affect your current supply. The gas that arrives at your home is transported via the National Grid. As all gas companies in the UK use the same infrastructure, you'll be able to enjoy a continuous supply, no matter how many times you switch.
What country has the cheapest gas?
Households in the UK pay an average of just 4.4p per kWh of gas. This makes us one of the cheapest countries for gas in Europe.
In Sweden you'll pay 10.29p/kWh, in Spain 9p/kWh, in the Netherlands 8.51p/kWh and in Italy 8.23p/kWh. However, it makes us more expensive than Luxembourg (3.65p/kWh), Poland (4.1p/kWh) and Romania (2.93p/kWh).
Which is the cheapest gas supplier in the UK
As gas prices are always changing, and different tariffs are available in different parts of the county, it's impossible to say which the cheapest gas supplier is at any one time. To find the best deal for your household, contact us and compare all available deals on the market on 0330 818 6225.
Updated on 15 Jun, 2022