Distribution Network Operators and Why They're Important
Are you ready to make the switch?
Switching energy suppliers has never been easier. Simply let our experts cater to all
of your gas and electricity needs.
Distribution Network Operators (DNOs) are the companies responsible for making sure your home gets a safe, reliable and uninterrupted electricity supply. They take care of the National Grid in your area so that your energy arrives straight at your doorstep. They are therefore instrumental to the UK energy market. What exactly does a Distribution Network Operator do? How do you find yours? And under what circumstances might you need to get in touch with them? In this article, we will explain everything you need to know about DNOs, why they're important, and how to get in touch with yours if you need to.
Last update: November 2022
As you may have heard on the news, the UK energy market is currently under an immense amount of stress as a result of a global gas shortage driving up costs and putting several energy suppliers out of business. To learn more about this and stay updated on a daily basis you can read our page on the UK energy crisis.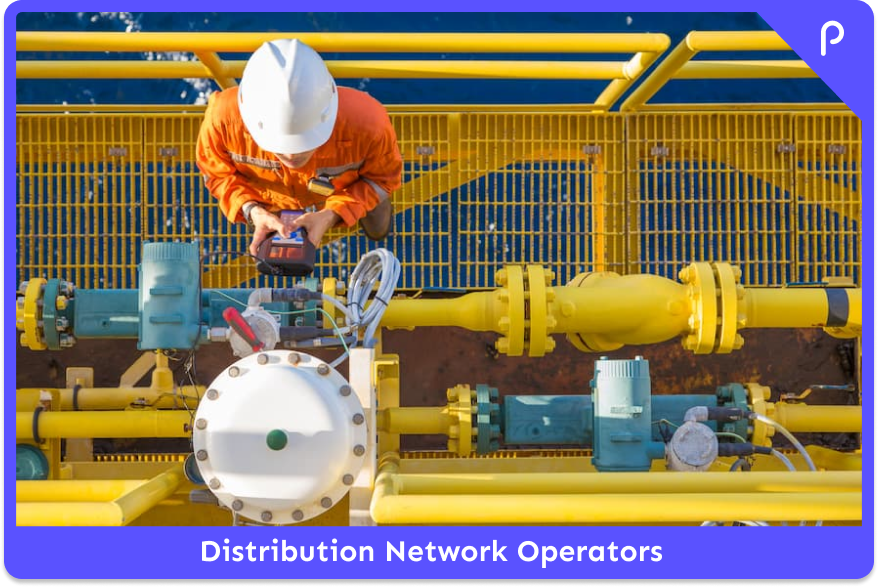 What is a Distribution Network Operator?
A Distribution Network Operator or DNO takes care of the National Grid in your area. Beneath your feet and over your head there are hundreds of miles of wires and cables. These are responsible for carrying energy from power stations to transporters where they are reduced to a save voltage for your home, and then on to homes and businesses across the region.
It's up to your DNO to maintain, upgrade and protect this network of cables to ensure a safe and uninterrupted supply of energy, as well as ensuring that the grid in your area is equipped to cope with growing local demand.
Is National Grid a DNO?
No. National Grid PLC owns and operates the national grid across the country and ensures that different regions have enough power. However, a DNO's responsibilities are slightly different. They are responsible for ensuring that electricity gets to homes and businesses efficiently and safely.
The National Grid defers to Distribution Network Operators to keep the ageing infrastructure of the grid up to date and ready to tackle the challenges of a growing population that's more reliant on energy than ever.
EU policy & smart grids
A smart grid is an energy grid with an advanced metering infrastructure, smart distribution boards and circuit breakers, renewable and energy efficient resources, all connected by utility-grade fibre broadband cables.
The smart grid has been dubbed the "internet of energy". In the EU, smart grid policy is organised under the Smart Grid European Technology Platform. Yet, wile we're no longer part of the EU, we have our own smart grid plans here in the UK.
What is a BNO?
Building Network Operators (BNOs) have the same responsibility as DNOs, just on a smaller scale. They are responsible for ensuring that multiple occupancy buildings such as apartment blocks have a safe and reliable connection to the national grid.
Who is my Distribution Network Operator?
Each area of the UK has its own Distribution Network Operator, and being able to find yours is very important if you have an issue with your energy supply, are building a new home that needs a connection, or need to make an amendment to your existing connection.
How do you find out who your DNO is?
In the table below, you can see an overview of all the UK's DNOs by region. You'll also see a contact number. You can refer back to this any time you need to find your local DNO, or have need of their services. We'll discuss why you may need to contact your DNO shortly.
DNO regions and operators
You can find their DNO and their contact number in the table below:
| Region Where You Live | Distribution Network Operator | Contact Number |
| --- | --- | --- |
| North Scotland | Scottish and Southern Electricity Networks | 0800 048 3515 |
| Central and Southern Scotland | SP Energy Networks | 0330 1010 300 |
| North East England and Yorkshire | Northern Powergrid | 0800 011 3332 |
| North West England | Electricity North West | 0800 195 4141 |
| Merseyside, Cheshire, North Wales & North Shropshire | SP Energy Networks | 0330 1010 300 |
| East Midlands & West Midlands | Western Power Distribution | 0800 096 3080 |
| South Wales & South West England | Western Power Distribution | 0800 096 3080 |
| London, South East England & Eastern England | UK Power Networks | 0800 029 4285 |
| Southern England | Scottish and Southern Electricity Networks | 0800 048 3516 |
| Northern Ireland | Northern Ireland Electricity Networks | 03457 643 643 |
How to contact my DNO
You can contact your DNO using the phone numbers in the tables above. Alternatively, you can visit your individual's website and fill out a contact form to request a follow-up email or callback.
When should I contact my DNO?
There are a number of reasons why you may want to contact your DNO. The most common include:
You've just moved into a new property, and don't know who supplies energy to it. Your DNO can find out your supplier and provide you with your meter's unique MPAN number. This will be useful when switching energy suppliers.
You've experienced an unexpected power cut. You'll need to contact your DNO to find out more about the cause of the interruption and claim compensation.
You've moved into a home with no electricity connection or you're building a new home. Either way, you'll need to contact your DNO to set up a new connection.
You need to move your existing grid connection and / or meter.
You want to disconnect a property from the National Grid.
You want to feed your own energy into the grid
Does my DNO contribute to green projects?
DNOs share in the responsibility to make our national grid greener and more efficient. Working in conjunction with Ofgem and energy suppliers, they are working to implement a green action plan that will propel the UK energy sector to carbon neutrality by 2050.
What services does my DNO offer?
Whatever DNO is responsible for maintaining the network in your area, they all offer the same range of services to energy consumers…
New connections
If you're building a new home or want to connect an off-grid property to the national grid, you'll need to speak to your DNO in order to set up a new connection. The average price of a new domestic connection is around £1,790. Your costs may differ. It all depends on your location, property and DNO.
Moving your connection / meter
If you're carrying out renovations to your property, you may need to move your meter or connection. A move of around 90cm or less along the same wall can be carried out by your energy supplier. For anything more, however, you'll need to contact your DNO. It may cost anywhere between £200 and £800 to move your meter.
Interruption of service
Every now and then, your DNO will need to make changes or upgrades to the grid that could cause outages in your area. Your DNO should always notify you in advance of this. However, if you experience an unexpected interruption of service you are entitled to a flat £30 in compensation from your DNO. You may be entitled to additional compensation if the power cut lasts for 12 hours or longer.
How to inject power into the grid
There are many households that use solar panels, domestic wind turbines or micro hydropower systems. As well as powering your home, these can also allow you to feed energy back into the national grid. Your energy supplier will pay you for this energy via the Smart Export Guarantee.
Generate power to the DNO
When connecting your installation to the national grid, you will need to contact your DNO. Although they will not set up this connection, you do need a G59 test certificate that is signed by the testing engineer and a witness from your DNO. They may tell you that it is not necessary for them to witness the connection test (as is often the case with smaller installations). However, they will need to provide a written confirmation of this.
What is the distribution voltage?
Energy from power stations is at too high a voltage for safe use in the home (between 275 and 400 kilovolts). As such, the National Grid uses step-down transformers to lower this to a safe voltage for use (230 volts).
How the Papernest team can help
Once your DNO has set up a connection to the National Grid, the Papernest team can help you to find the perfect energy plan for your needs and budget. We'll also manage your switch from end-to-end so you can start enjoying greener, cheaper energy faster and hassle-free. If you want to feed your own energy into the grid, we can also help you find the best Smart Export Guarantee rates.
Want to know more?
Call us today on 0330 818 6225.
We're available from 8am to 6pm.
Would you like to know more about the UK energy market? Great! Check out these related articles:
Looking to switch energy deals?
Leave your phone number to request a call back from us!
Find out more
Updated on 11 Nov, 2022