Are you ready to make the switch?
Switching energy suppliers has never been easier. Simply let our experts cater to all
of your gas and electricity needs.
Most homes in the UK enjoy an uninterrupted supply of gas and electricity, allowing us to heat and power our homes all day, every day.However, all of the gas and electricity that arrives at your home comes from somewhere. Whether it's extracted from the North Sea or generated by the wind, your energy is produced, processed and distributed before reaching your lights, TVs, radiators and boilers.
Last update: November 2022
As you may have heard on the news, the UK energy market is currently under an immense amount of stress as a result of a global gas shortage driving up costs and putting several energy suppliers out of business. To learn more about this and stay updated on a daily basis you can read our page on the UK energy crisis.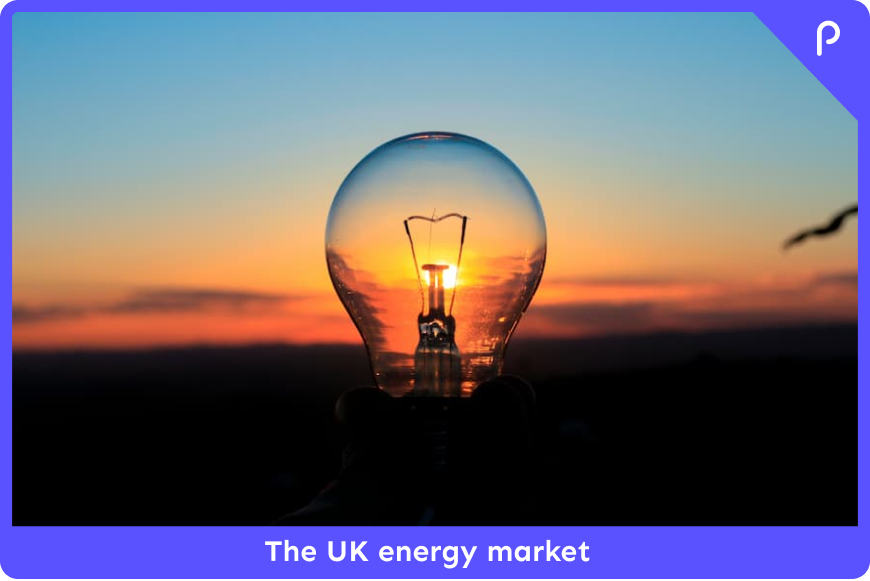 Understanding a little more about energy distribution and generation in the UK will help you to appreciate where your gas and electricity come from and all the steps it takes to get energy to your home.
How is electricity produced and distributed in the UK?
In the UK, electricity is produced in a number of different ways. Over the last few years, the amount of energy produced from zero-carbon sources has grown dramatically. In 2014, fossil fuels supplied a whopping 85% of the UK's energy needs. By 2019, that figure had shrunk to just 43%. The table below shows how the UK's average fuel mix has changed over the past five years:
| Energy source | UK average 2015 | UK average 2020 |
| --- | --- | --- |
| Coal | 22.3% | 4% |
| Natural Gas | 29.5% | 39% |
| Nuclear | 20.7% | 17% |
| Renewables | 24.6% | 38% |
Once this energy is generated, it's pumped into the National Grid where electricity from all different sources is mixed together. The energy that's generated in UK power stations is normally at around 22,000 volts. It's then increased to between 275,000 and 400,000 before being fed into the National Grid. This high voltage is used to allow electricity to travel around the grid as efficiently as possible. If a lower voltage were used, a lot of energy would be lost as heat as it moved through the wires. Raising the voltage reduces the electric current flowing in the wires, and it's the current that causes heat loss. Once it's at the right voltage, electricity is sent all over the country via the National Grid. The grid is a vast network of overhead and underground cables that effectively acts as a motorway system to transport energy to every corner of the UK. This electricity eventually arrives at local substations where the voltage is stepped down and the energy prepared for regional distribution.
COVID-19
More than ever, our team of experts remain on deck to help you make savings on your energy. We understand how deeply the lives of many are affected by these trying times and we want to support you the best we can. More on your energy supply during COVID-19 in our article.
Who produces energy in the UK?
The electricity we use in the UK comes from a number of different sources including coal-fired power stations, off-shore wind farms, solar farms, and nuclear and gas-fired power stations. This energy generation infrastructure is owned by a number of different companies and organisations. These groups sell the energy they produce to energy suppliers who then sell it on to the end user. While some energy generators are independent businesses, a number of UK energy generators are also energy suppliers. Generating their energy themselves instead of buying it from another company allows energy suppliers to reduce their costs and maximise their profits. The table below shows the wholesale electricity generation market shares by company in 2019.
| EDF | 24% |
| --- | --- |
| RWE | 15% |
| SSE | 7% |
| Drax | 7% |
| Uniper | 5% |
| Intergen | 4% |
| EPH | 4% |
| Vitol | 3% |
| Orsted | 3% |
| ECP | 3% |
| Other | 25% |
The table below shows the fuel mix for EDF Energy, the UK's largest energy generator: Coal3.5%Gas9.3%Nuclear66.6%Renewable20.5%Other0.1% The table below shows the fuel mix of RWE npower, the UK's second largest energy generator: Coal4.8%Gas54.4%Nuclear6.2%Renewable30.7%Other3.9% The table below show the fuel mix for SSE, the UK's third biggest energy generator: Coal7%Gas65%Nuclear5%Renewable21%Other2%
What are the three main steps in power distribution?
There are three main steps in the power distribution process:
Supply to area – National Grid
The National Grid is a huge network of underground and overground cables that transports electricity across the country. Electricity is taken from the National Grid transmission system and reduced down to around 132,000 volts. It's then reduced further by local electricity companies to prepare it for distribution. Some big industrial customers require large amounts of electricity. They are sometimes supplied directly from substations at 33,000 volts.
Supply to towns – Distribution Network Operators
Distribution Network Operators (DNOs) are companies that manage regional areas of the grid. There are 14 DNOs in the UK, each responsible for a different section of power lines, substations and customers. DNOs are responsible for managing, maintaining and updating the energy infrastructure in the area they cover. They are also the ones who deal with power cuts, cable repairs and other issues in the system. DNOs take the energy from the National Grid and reduce the voltage before it's sent out to towns and villages. At this stage, electricity is normally around 11,000 volts. Some industrial customers are supplied direct at this point. The table below shows a list of UK DNOs and their contact details:
| Area (code) | Company | Emergency No. | Website |
| --- | --- | --- | --- |
| North Scotland (17) | SSE Power Distribution | 0800 300 999 | www.ssen.co.uk |
| Central and Southern Scotland (18) | SP Energy Networks | 0800 092 9290 | www.spenergynetworks.co.uk |
| North East England (15) | Northern Powergrid | 0800 668 877 | www.northernpowergrid.com |
| North West England (16) | Electricity North West | 0800 195 4141 | www.enwl.co.uk |
| Yorkshire (23) | Northern Powergrid | 0800 375 675 | www.northernpowergrid.com |
| Merseyside, Cheshire, North Wales and North Shropshire (13) | SP Energy Networks | 0800 001 5400 | www.spenergynetworks.co.uk |
| East Midlands, West Midlands, South Wales & South West England (11, 14, 21, 22) | Western Power Distribution | 0800 6783 105 | www.westernpower.co.uk |
| Eastern England (10) | UK Power Networks | 0800 316 3105 | www.ukpowernetworks.co.uk |
| Southern England (20) | SSE Power Distribution | 0800 072 7282 | www.ssen.co.uk |
| London (12) | UK Power Networks | 0800 316 3105 | www.ukpowernetworks.co.uk |
| South East England (19) | UK Power Networks | 0800 316 3105 | www.ukpowernetworks.co.uk |
| Northern Ireland | Northern Ireland Electricity | 0345 764 3643 | www.nie.co.uk |
Supply to homes – Energy suppliers
Before being pumped into homes, and the majority of businesses, electricity is finally reduced to just 230 volts. This allows it to be used safely with our appliances and ensures a reliable supply to properties across the UK. Although energy supplied to UK homes and businesses is delivered by Distribution Network Operators, it's energy suppliers that most customers will deal with. Energy suppliers deal direct with the end user and set the prices for the gas and electricity they consume.
How does energy production match demand?
Demand for energy can vary significantly. In general, demand is at its highest during the winter months when days are dark and cold and nights are long. However, the National Grid also experiences fluctuations in demand throughout the day as the UK wakes up, goes to work and then heads home again. These surges and lulls in demand are generally fairly easy to predict. This allows the National Grid to get ready for an increase or decrease in demand and ensure there's always plenty of energy to go round. If there's a sudden unpredicted surge in demand, the National Grid is able to activate extra energy generation resources to quickly meet the UK's energy needs. This adaptability means that virtually all households in the UK are able to enjoy a seamless supply of energy.
What is the National Grid and who is it owned by?
The National Grid is the infrastructure that transports energy around the UK. It's made up of a vast network of overhead and underground cables that transport electricity across the country. The National Grid also includes the UK's high-pressure gas transmission system. The National Grid is owned by National Grid Plc, one of the world's largest investor-owned energy companies. National Grid Plc operates in both the US and the UK.
Gas transmission and distribution in the UK
Like electricity, gas is sourced from a few different places before being distributed around the country by the National Grid. At the moment, around 43% of the gas we use comes from British reserves in the North Sea. Another 44% comes from European pipelines. Our remaining gas supply comes from LNG imports. These mostly come from Qatar. These percentages have changed a lot over the past two decades as North Sea gas reserves have been depleted. The table below shows how UK gas sources have changed since 1998:
| Energy source | 1998 | 2010 | 2017 |
| --- | --- | --- | --- |
| Domestic | 99% | 51% | 47% |
| Pipline imports | 1% | 32% | 45% |
| LNG imports | 0% | 16% | 8% |
Supply to area – National Grid
The National Grid transports gas around the country. It then enters local distribution zones (LDZ) before flowing through distribution networks. Natural gas has to go through pressure reduction stations before it reaches our homes and businesses in order to make it safe to use.
Supply to towns – Gas Distribution Networks
There are eight Gas Distribution Networks (GDNs) in the UK. Each network covers a different geographical area. It's the GDNs who are responsible for maintaining the infrastructure in their section of the grid and for delivering gas safely to our homes. The UK's eight GDNs are owned by the following four companies: West Midlands, North West, East of England and North LondonCadent Gas Ltd+44 800 389 8000https://cadentgas.com/ North East England (including Yorkshire and Northern Cumbria)Northern Gas Networks Limited+44 113 397 5300https://www.northerngasnetworks.co.uk/ Wales and South West England.Wales & West Utilities Limited+44 800 912 2999https://www.wwutilities.co.uk/ Scotland and Southern England (including South London).SGN +44 800 912 1700 https://www.sgn.co.uk/
Supply to homes – energy companies
Like electricity, gas is sold to the end user via energy suppliers. Most companies that supply electricity, such as 'the big six' also supply gas. This gives customers a good choice of options when it comes to choosing their preferred energy company.
Who regulates the energy market?
The energy market in the UK is regulated by the Office of Gas and Electricity Markets, better known as Ofgem. Ofgem was created on 1st November 2000. Before the late 20th century, almost all gas and electricity was supplied by British Gas. In 1986, customers were given the right to choose their supplier and the UK energy market began to open up. Within a few years, numerous new gas and electricity suppliers had sprung up and consumers had more choice than ever before. The government created Ofgem in order to help regulate prices and protect consumer interests. Originally, the regulatory body had the power to set maximum prices. This was in order to prevent the cost of gas and electricity from rising too quickly. These powers were removed between 2000 and 2002. It was hoped that competition between suppliers would help to keep costs down, however prices have gone up considerably in the last 20 years, in some cases by up to 60%.
Ofgem
These days, Ofgem is mostly responsible for promoting consumer' interests. The regulatory body has the power to investigate supplier behaviour and impose fines on suppliers that have breached their license conditions. It is also responsible for promoting sustainability within the energy industry and ensuring that vulnerable customers are offered the correct level of help and support. According to Ofgem, the body protects the interests of the consumer in a number of ways, these include:
Promoting the security of the UK's energy supply
Ensuring the sustainability of the UK's energy supply for future users
Promoting value for money when it comes to energy tariffs
Supervising and developing competition within the market
Regulating government schemes and helping deliver them to the consumer
All of these measures help to improve the UK energy market and provide the consumer with a better, more sustainable service. On top of these measures, Ofgem also publishes in depth information about the energy industry and UK gas and electricity suppliers. This helps to provide consumers with trustworthy and accurate information and allows them to make more informed decisions about their gas and electricity supply.
The Energy Ombudsman – Are energy companies regulated?
While Ofgem is the regulatory body for the energy industry, it's not the Energy Ombudsman, The Energy Ombudsman is independent and impartial from the energy industry, Ofgem and any consumer groups. If you have made a complaint to your energy company and aren't satisfied with their response – or if they have failed to respond altogether – the Energy Ombudsman should be your next port of call. It's the job of the Energy Ombudsman to investigate complaints against energy companies and resolve disputes between suppliers and their customers. It is the duty of the ombudsman to listen to both sides in a dispute, look at all the facts and reach a fair and equitable solution. If you accept the decision reached by the Energy Ombudsman, the energy company in question has to take the action suggested by the body. If you don't accept the decision, or if you fail to respond to the decision within 28 days, you can no longer take up the solution offered by the ombudsman. However, you are still free to pursue your claim in other ways, such as through the courts. If you feel that the behaviour of your energy company has breached their license conditions, you can also report them to Ofgem. While Ofgem won't rule on your complaint, they may investigate the company if they find that there is evidence of poor practices.
Can I take an energy company to court?
In some instances, you may want to take things further and take your complaint to court. While you have the right to take your energy supplier to court, it's important to get independent legal advice before you do so in order to ensure your case has merit and you don't incur any unnecessary fees. According to consumer watchdogs, energy companies have the worst customer service of all industries. This means that there's a good chance you'll be left dissatisfied with your supplier's issue resolution processes. If you feel your energy company hasn't adequately dealt with your complaint, the first thing you should do is contact the Energy Ombudsman. They'll be able to advise you on the other routes available to resolve the situation and find a satisfactory solution. If all avenues have been exhausted, the Energy Ombudsman will intervene to make a decision on your case.
How do energy suppliers work?
In the UK, energy is distributed around the country via the National Grid. Distribution network operators are responsible for maintaining the infrastructure in their specific regions of the country. They are also responsible for stepping down the voltage of electricity to a usable domestic level. However, most customers won't deal with either the National Grid or their local distribution network operator. Instead, they'll buy their gas and electricity from an energy supplier. Suppliers sell the energy that's transported in the grid to domestic and business customers. It's energy suppliers who are responsible for setting tariffs and taking payment and ensuring their customers' needs are met. There are around 60 energy companies in the UK, most offer gas and electricity, but some offer just one type of fuel. The largest suppliers are British Gas, E.ON, Scottish and Southern Energy, RWE npower, EDF Energy and Scottish Power. These companies are collectively known as 'the big six'. Together, they provide around 70% of the energy consumed in the UK.
Looking to switch energy deals?
Leave your phone number to request a call back from us!
Find out more
FAQ
What is a distribution grid?
Distribution grid refers to the final stage of the electricity grid that distributes electricity to homes and businesses. The distribution grid both reduces electricity to a safe, usable voltage and delivers it to every user on the grid.
The distribution grid uses overhead and underground power lines that connect to distribution substations. These distribute the power to where it needs to be.
How does energy distribution work in the UK?
In the UK, gas and electricity are distributed around the country via the National Grid. This energy arrives at local substations and storage areas before being prepared for the end user and pumped into our homes and businesses.
Although it's the National Grid that manages energy distribution, end users won't deal with them directly. Instead, you'll pay an energy supplier for your gas and electricity. They in turn will buy energy from the National Grid for your consumption.
What is a Gas distribution network?
A gas distribution network, or GDN, is a company responsible for distributing gas within a certain geographical region of the UK. There are eight GDNs across the country, each covering a different area.
What is a Distribution network operator?
Distribution network operators (DNOs) are responsible for distributing electricity in regional areas around the country and for maintaining the energy infrastructure in their region. There are 14 DNOs in the UK.
Updated on 30 Nov, 2022