Is Spark Energy the right supplier for your home?
Switch energy suppliers in minutes to save up to £400 a year!
Take back control over your energy bills! Call us and let our experts guide you
on how to make big savings.
Monday to Friday – 8.30 am to 5.30 pm
papernest is rated 4.7/5 on Trustpilot
Ad
Switch energy suppliers in minutes to save up to £400 a year!
Take back control over your energy bills! Call us and let our experts guide you
on how to make big savings.
Monday to Friday – 8.30 am to 5.30 pm
papernest is rated 4.7/5 on Trustpilot
Ad
Spark Energy joined the UK energy landscape back in 2007. The company's original focus was the lettings market. However in recent years, it's opened up its tariffs and now serves a wide variety of customers. As well as offering a good choice of plans, Spark Energy also aims to provide its customers with excellent customer service and a more personal experience.The original Spark Energy actually ceased trading in 2018 when it was taken over by energy supplier Ovo Energy. As Ovo continued to use the Spark Energy name and branding, a lot of customers may not have noticed the switch. In 2021, households supplied by Spark Energy will move to a new supplier once more when SSE takes over the brand's customer base.Like many of the smaller energy companies out there, Spark Energy claims to offer excellent customer service and low prices. We decided to find out if this was true and to see how Spark Energy tariffs and deals stacked up against others on the market.
Last update: June 2022
As you may have heard on the news, the UK energy market is currently under an immense amount of stress as a result of a global gas shortage driving up costs and putting several energy suppliers out of business. To learn more about this and stay updated on a daily basis you can read our page on the UK energy crisis.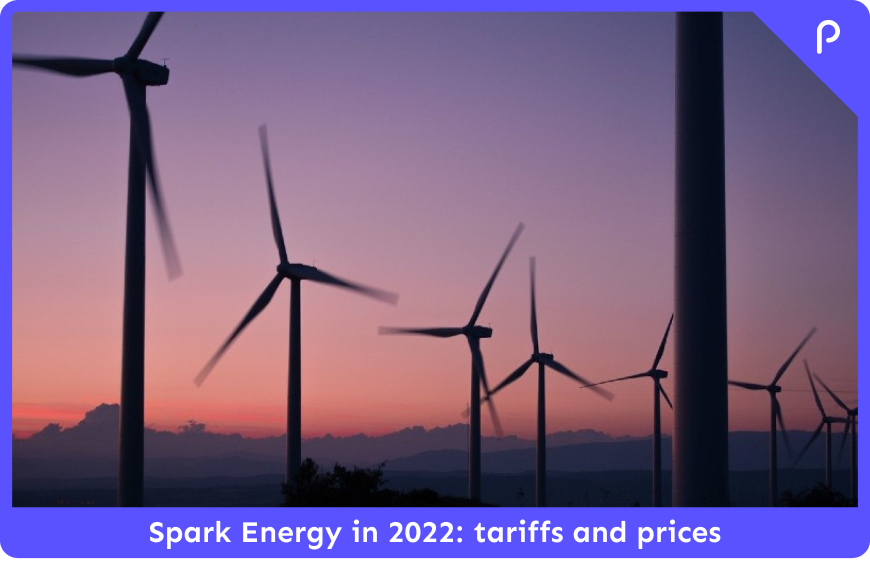 | Spark Energy | |
| --- | --- |
| Founded | 2007 |
| Customer email | customerexperience@sparkenergy.co.uk |
| Customer number | 0345 130 8966 |
| Customer login | You can log into your Spark Energy customer account here |
| Number of customers | 350,000 |
Spark Energy tariffs and prices

When switching to a new energy company, it's important to find a supplier with affordable deals. Signing up to a cheap tariff will help you to keep your energy payments to a minimum and ensure you don't pay over the odds for your gas and electricity.
Spark Energy offers a very wide range of tariffs including monthly saver, digital saver, smart fixed and prepayment deals. Economy 7 tariffs are also available from Spark Energy.
The three most popular Spark Energy tariffs are:

Name

Unit rate


per kWh

Standing charge


per day
Tili Select Saver – Sept 2021
Monthly Fixed Direct Debit
Fixed
16.52p

23.64p

Move In Saver v9
Monthly Fixed Direct Debit
Variable
17.16p

24.50p

Move In Saver v9
Prepayment Meter
Variable
16.80p

28.83p
How much does Spark Energy charge per kWh?
The amount that Spark Energy charges for a kWh of electricity varies significantly between tariffs. At the moment, their cheapest kWh rate is 15.07p. This is available on the Move In Saver Prepayment tariff.
The most expensive kWh rate available from Spark Energy is 22.03p. This can be found on the supplier's Move In Saver Monthly Cash/Cheque tariff.
However, when selecting a Spark Energy tariff, it's important to compare the rate per kWh with the standing charge. Spark, like many energy companies, tend to either offer tariffs that have a low standing charge and high kWh rate, or that have a high standing charge and a low cost per kWh.
For example, for the two tariffs mentioned above, the cheap Move In Saver Prepayment tariff has a standing charge of 30.41p while the more expensive Move In Saver Monthly Cash/Cheque tariff has a standing charge of just 15.24p.
If your household consumes a lot of energy, it's a good idea to opt for a tariff with a low unit price and a high standing charge. However, if you're a low consumption household, you may well be better off choosing a deal with a low standing charge and higher unit cost.
Use the Switch Plan comparison service to compare prices and find the deal that's right for you.
0330 818 6225
Is Spark Energy cheap?
Spark Energy claims to offer some of the most affordable tariffs around. The supplier says that it always offers at least one tariff that's cheaper than the average annual dual fuel bill as published by Ofgem.
However, just because it has one tariff that's below average, doesn't necessarily mean that Spark Energy is cheap. To find out if they are the most affordable energy supplier for your household, call our Switch Plan and compare the best deals around.
How green is Spark Energy?
Unlike most UK energy companies, Spark Energy generates its electricity using just two fuel sources: Natural gas and renewables.
According to the Spark Energy fuel mix, the supplier gets around 51.9% of its electricity from renewable sources and 48.1% from natural gas.
The table below shows the average UK fuel mix that most energy companies use:

| Fuel source | % |
| --- | --- |
| Renewables | 37.9% |
| Natural gas | 39.4% |
| Nuclear | 16.6% |
| Coal | 3.9% |
| Other fuels | 2.2% |

As you can see from the table, Spark Energy uses considerably more renewable energy than the UK average. However, it also uses more natural gas, a fossil fuel that's a major polluter. This shows that while the company is green in some ways, it has a long way to go to become a truly sustainable energy provider.


Our energy experts are here to help

Free service - Available Monday to Friday from 8.30 am until 5.30 pm
Spark Energy reviews

Spark Energy reviews are generally positive. The company seems to do reasonably well when it comes to keeping its customers happy and dealing with issues and complaints. However, over the past few months, ratings have started to drop with more and more 1-star reviews appearing for the brand.
On the Trustpilot review site, Spark Energy gets an overall score of 3.7 out of 5. That puts it in the 'Average' category. Of the 30,000 reviews posted on the site, 57% rate Spark Energy as 'Excellent', 13% rate it as 'Great' and 22% rate the energy supplier as 'Bad'.
Among the positive reviews posted to impartial review sites are:
"Spark energy were amazingly helpful when I found myself in financial difficulty during the recent troubles due to covid-19 and its impact on our household income. They willingly loaned us electric credit on several occasions valued at £30/£50 and £25 which really helped us keep the lights on…. Literally."
"Nice and quick with excellent service"
"Precise and accurate how all companies could learn by spark energy. A BIG THANK YOU"
Recent negative reviews posted for Spark Energy include:
"Agents are not trained well at all. Been going back and forth with them all week and every time I hear something different. Leaving me with no electricity."
"Constantly using estimates instead of meter readings for the bills and hugely overcharging. Terrible customer service."
What makes Spark Energy different?

One of the main differences between Spark Energy and other energy suppliers is that the brand has aimed its services at the rental market. Spark Energy works with estate agents and social housing landlords across the country and provides energy to hundreds of thousands of renters throughout the UK.
Who owns Spark Energy?
Spark Energy started out life as an independent energy supplier. However, in 2018 it became part of the Ovo Energy brand. Ovo chose to keep the Spark Energy name and branding, so many customers didn't realise that the supplier had in fact changed hands.
In January 2020, Ovo merged with SSE Energy. As part of the integration of the two companies, all Spark Energy customers will be moved over to SSE Energy services.
When will I be switched to SSE and will I pay more?
All current Spark Energy customers will be moved onto SSE tariffs by the end of 2021. Customers should be moved onto tariffs that offer similar rates to those they pay now. However, as SSE is a different company, there is a chance the amount you pay for your energy will go up or down following the merge.
I don't want a contract with SSE, can I switch? Will I be charged exit fees?
If you're currently a Spark Energy customer and don't want to move to SSE, you're free to switch to a new supplier. Due to the merger between the companies, you won't be charged exit fees if you want to switch suppliers, even if your current fixed term period is yet to expire.
Before you switch, take a look at the small print of your new tariff to find out exactly what's on offer. If you're still not happy with your new deal, call our Switch Plan to find the right tariff for you.
0330 818 6225
Will SSE take on my unresolved complaint/credit/debt to Spark Energy?
If your Spark Energy account is in credit, this money will be protected when the company switches over to SSE. If your account is in debt, you'll still have to pay this money back when SSE takes over.
When they take over, SSE will get in touch with you to let you know how much you owe or how much you have in credit. It's always best to wait to hear from them before making any payments. In the meantime, take regular meter readings to ensure you have an accurate record of your usage.
If you had made a complaint to Spark Energy that was yet to be resolved, you'll need to raise the issue again with SSE. SSE will then review your complaint to see if it's still relevant and will let you know their decision.
How long does it take to switch to Spark Energy?
If you're switching to Spark Energy from another supplier, the switch should take around 21 days. If you use an impartial switching service like our Switch Plan, you won't have to do any admin or fill in any forms. We'll take care of everything for you, allowing you to switch tariffs and save money in moments.

Spark Energy: what other services do they offer

Spark Energy offers a range of other services designed to help landlords and tenants manage their properties. These services include:

Smart meters for void properties
Utilities management for void properties
Boiler care from Corgi-certified engineers
Tili the digital home assistant

Of these services only the last is aimed at tenants. Tili is an online tool developed by Spark Energy to allow renters to set up their water, council tax, energy, broadband, telephone and TV in minutes.
When renters use Tili to set up their services, their estate agent can earn extra revenue if they're partnered with Spark Energy.
Do Spark Energy have smart meters?
Spark Energy does offer smart meters. The supplier installs smart meters in both occupied and empty properties.
Swapping your traditional energy meter for a smart meter can make life a lot easier. These handy devices send energy readings to your supplier directly. That means you won't have to take readings yourself and it also means your energy bill will be based on actual usage rather than estimates.
Another benefit of smart meters is that they tell your supplier exactly when you're using your electricity. This gives UK energy companies a clearer idea of customer demand and should help them to build a more efficient, less wasteful, power network.
Although smart meters are becoming more widespread, they're still being rolled out and aren't yet available in all parts of the UK. If you think your household could benefit from a smart meter, get in touch with Spark Energy to find out if they're available in your area.

Contact Spark Energy

If you need to get in touch with Spark Energy, there are several options to choose from. You can call the company's automated phone line 24/7 on 0345 130 8966, call the Spark Energy team directly on 0345 034 7474 or email them at customerexperience@sparkenergy.co.uk.
You can also use the live chat function on the supplier's website or get in touch via social media.
How to complain about Spark Energy?
If you have a complaint about the service you've received from Spark Energy, you should get in touch with the supplier's customer service team to try and resolve the issue. If you fail to reach a satisfactory resolution with Spark, you can escalate your complaint by taking it to the Energy Ombudsman.
The Ombudsman is an independent organisation that has the power to rule on disputes. They will investigate your case and let you know their decision.
Would you like to know more about energy suppliers? Great! Check out these related articles:
FAQ
Does Spark Energy do business energy tariffs?
Spark Energy aims its services towards the domestic rental market. At the moment the supplier doesn't offer business tariffs.
How to change tariff on Spark Energy
If you're already with Spark Energy but think your household would be better off on another tariff, you can switch deals by getting in touch with the supplier directly. If you're on a variable rate tariff, you should be able to switch straight away.
However, if you're on a fixed rate deal you'll have to wait until your current contract period ends if you want to avoid paying an exit fee when you switch.
How to apply for the Warm Home Discount with Spark Energy
The Warm Home Discount is a government scheme that gives pensioners and low income households £140 off of their winter fuel bill. If you think you're eligible for the scheme, you can apply for the Warm Home Discount directly through the Spark Energy website.
Where is Spark Energy based?
Spark Energy has its headquarters in Selkirk in the Scottish Borders. If you want to write to the company, its address is:
Ettrick Riverside,
Dunsdale Rd,
Selkirk TD7 5EB,
United Kingdom
Updated on 21 Jun, 2022