Gas Distribution Network: What You Need To Know
We compare the market to find you the perfect deal
We study all energy suppliers daily to identify the best deals custom-fitted to your needs. You just have to take your pick.
Monday to Friday – 8.30 am to 5.30 pm
We compare the market to find you the perfect deal
We study all energy suppliers daily to identify the best deals custom-fitted to your needs. You just have to take your pick.
Monday to Friday – 8.30 am to 5.30 pm
The Gas Distribution Network is a vast interconnected network of pipes, valves, and manifolds that transmits gas to your home. Many UK households rely on the gas distribution network to help them cook their meals, heat their water and keep their homes warm. But in an era of privatised energy, who is responsible for maintaining and upgrading this network? In this article, we'll look at everything you need to know about the UK energy market and the gas distribution network.
Last update: April 2022
As you may have heard on the news, the UK energy market is currently under an immense amount of stress as a result of a global gas shortage driving up costs and putting several energy suppliers out of business. To learn more about this and stay updated on a daily basis you can read our page on the UK energy crisis.
Who operates the gas distribution network?
The gas distribution network is actually 8 separate networks. Much like the national electrical grid, the gas grid is too large for any single company to manage effectively, with hundreds upon hundreds of miles of pipework needing to be maintained and upgraded to cope with rising demand.
As such, these 8 networks across the UK are managed by 4 companies. Each taking responsibility for a different region. These are:
Cadent Gas Ltd
Northern Gas Networks Limited
Wales & West Utilities Limited
SGN
Within the areas covered by these Gas Distribution Networks (GDNs) there are a number of smaller networks which are owned and operated by smaller Independent Gas Transporters (IGTs).
Who is responsible for your gas supply?
That depends on your area. Each GDN is responsible for a different part of the country. This makes each GDN a natural monopoly. This is why the energy watchdog Ofgem works closely with GDNs to ensure that they operate fairly and have reasonable pricing structures.
Energy suppliers pay GDNs to use their networks, and this cost is reflected in energy bills. Of course, the Papernest team are always on hand to ensure that you get the best possible value for money with your gas and energy tariff.
Gas distribution network operators
Just as the UK electricity grid relies on Distribution Network Operators to maintain the network in each region, so too does the gas network rely on the companies mentioned above to keep the grid fit for purpose.
These companies also have some customer-facing responsibilities. While most energy consumers will never interact with their GDN, you may need to contact yours if you:
Experience an issue with your supply
Need to set up a new connection to the gas network
Move an existing connection or meter
Need to "dial before you dig" to ensure that building work doesn't impact on a gas main
Disconnect a property from the network
Gas distribution network in my area
If you have need of any of the services above, you'll need to contact your local area's GDN.
But how do you know which network operator / gas transporter / gas shipper (all the same thing) is the right company to contact when you need them. Just refer to the table below! Look for your area and you'll find the name of your GDN, and their contact number.
| GDN | Area | Contact Number |
| --- | --- | --- |
| Cadent Gas | North West of England, West Midlands, East of England and North London | 0800 389 8000 |
| Northern Gas Networks | North East of England, Northern Cumbria, and much of Yorkshire | 0800 040 7766 |
| SGN | Scotland and Southern England | 0800 912 1700 |
| Wales & West Utilities | Wales and the South West of England | 0800 912 2999 |
What are the gas distribution network charges?
The charges for using the gas distribution network are borne by energy companies. The cost of network charges makes up just over 25% of your gas bill, which is why it's so important that Ofgem keeps an eye on GDNs to make sure that their charges don't result in high gas costs for energy consumers.
Can I get a gas supply to my house?
If you contact your GDN to set up a new connection, the cost of this will depend on your area, your property and whether or not you're prepared to do your own digging. A new gas grid connection will cost anywhere between £300 and £600. The cost of moving a connection may be similar. However, you may be able to mitigate some of this cost by asking your GDN which parts of the work are contested and getting a quote from a registered Gas Safe engineer in your area to see if they can do the work for you.
Gas distribution network map
As we've stated previously, the UK is divided into 8 separate GDNs which in turn are divided between 4 companies.
Let's imagine a map of mainland UK. Who owns which parts of the country? Different companies control different GDNs. And the areas they control aren't all necessarily close to one another. Let's take a closer look:
Cadent Gas Ltd control the West Midlands, North West, East of England and North London
Northern Gas Networks Limited controls the North East of England, including Yorkshire and Northern Cumbria
Wales & West Utilities Limited covers all of Wales, as well as South West England.
SGN covers Scotland and Southern England, including South London.
Who owns the gas network in UK?
The UK gas network is technically part of the National Grid. However, National Grid PLC sold a majority stake in the UK's gas pipe network to a team of investors in 2016. This included the Chinese and Qatari states. So other countries actually own more of our gas network than we do!
How do I know if my gas supply is working?
Households that are new to having a gas connection will need to get an energy supplier to fit a meter in order to make your gas supply useable.
After this has been done, you not be sure of how to tell if your gas connection is on or off. The easiest way to check is to look at the isolation valve. This can be found upstream of your gas meter, and controls the flow of gas to your home.
If it's in the "on" position, the valve handle will be parallel with the pipe.
How do I know if my gas is off?
If your oven, hob and other gas appliances seem not to be getting a steady flow of gas, the best thing to do is check the isolation valve again. If the valve is in the "off" position, the handle will be at a right angle to the pipe.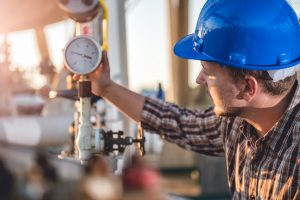 What do I do if my gas isn't working?
That depends on the specific problem you're having. If your gas meter isn't working this is your energy supplier's responsibility. They will need to test it and repair or replace it if necessary. If the problem is with your stove or central heating, you may need to call out a Gas Safe registered engineer in your area.
At Papernest, we thoroughly recommend getting a boiler cover plan to mitigate the potential cost of repairs to your boiler unit or heating apparatus.
How the Papernest team can help
Once your gas connection is up and running, the Papernest team can find the perfect gas supplier and tariff for your needs and budget. We can even find energy plans that use green biomethane gas instead of natural gas, or carbon-offset natural gas to make your supply more renewable.
We can also recommend the perfect boiler, heating and plumbing cover to ensure that you won't be out of pocket if something goes awry.
Call our experts today on 0330 818 6225.
We're available from 8am to 6pm.
Would you like to know more about the UK energy market? Great! Check out these related articles:
Updated on 24 Jan, 2022